Brizo Factory Tour with the Blogger19 Reunion Group
Jul 24 2013 · 0 comments · Behind the Design, Design Events ·

2

As part of the Brizo sponsored Blogger19 Reunion trip to Memphis, our entire group was treated to a behind the scenes look at what goes into creating the products of the Brizo brand.  We spent an insightful day learning about research and development, touring the Delta factory where the Brizo line of  products are made, and getting a first look at some of the amazing new Brizo products.

Style and Technology go hand in hand at Brizo

When developing new products, the team at Brizo relies heavily on Ethnography which is the study of people and their environment.  Brizo literally studies families in their homes to see how they use their kitchen sinks!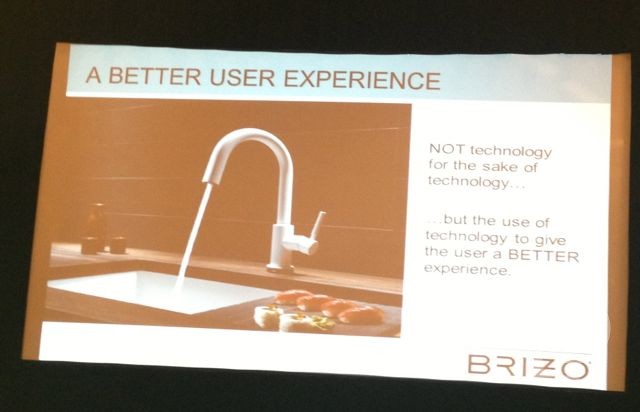 We heard about how on the first day of the study the participants are well-dressed and coiffed and on their best behavior.  However by the third day, someone is using the kitchen sink to wash their hands over a pile of dirty dishes, then the next person is turning on the faucet after handling a piece of meat ~ hello, cross-contamination!   Brizo uses the information gleaned from these real life studies to create products that give their clients what they need and want.
The line up of Smart Touch Plus and Smart Touch Faucets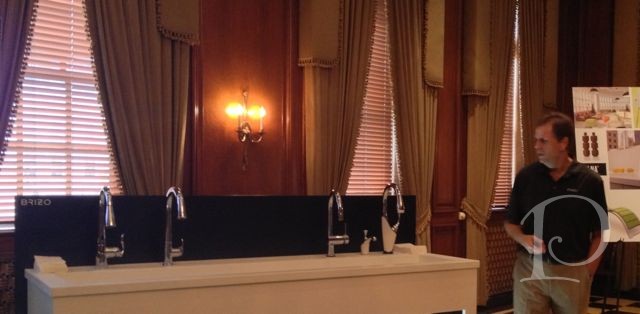 The Smart Touch Plus faucet is a miracle product for  ALL kitchens! All you have to do is pass your hand over or under the faucet and it will turn on! Voila! There is no need to touch any part of the faucet~genius and so sanitary!
The Smart Touch Plus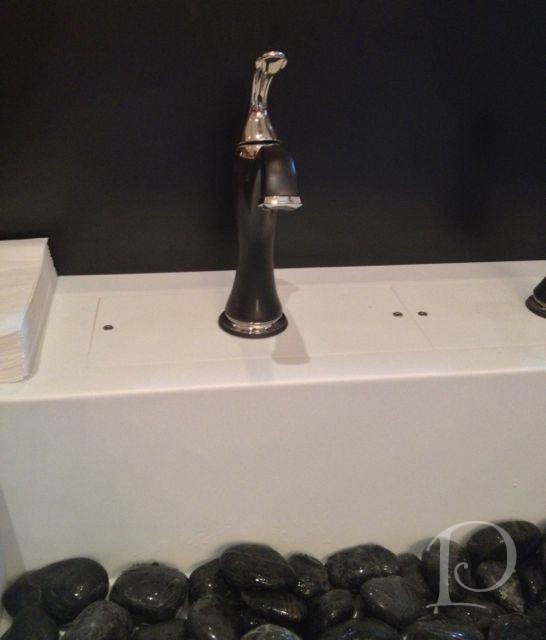 This faucet design allows the user to simply touch the base, the neck, or any part of the faucet to turn it on or off. And you don't have to use your hands, you can use an elbow,  part of your forearm ~ whatever is convenient.  All faucets also have WaterSense® which is a special EPA certification given to faucets that process water at a flow of 1.5 gallons of water per minute.
Stylin' too!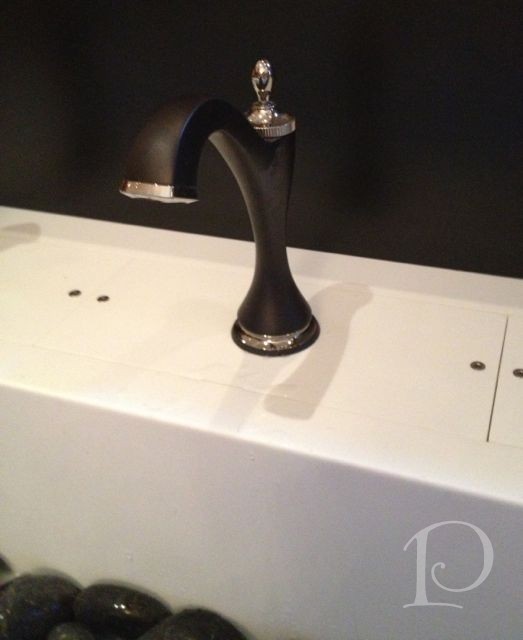 TempAssure® Thermostatic Valving, another Brizo innovation, helps maintain a more precise water temperature.  See the blue light?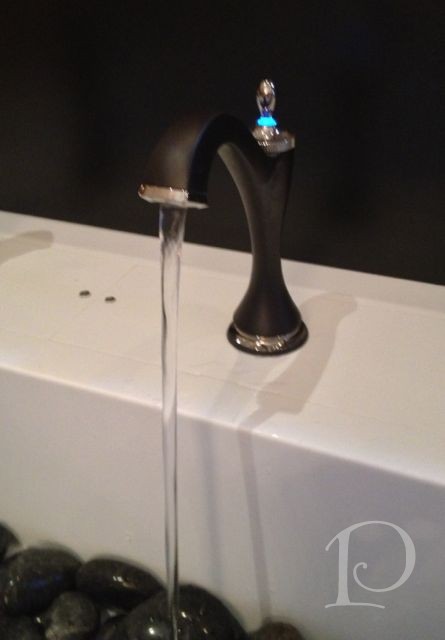 The blue light monitors the temperature of the water for your comfort.  Of course all Brizo faucets are also no-lead compliant with state and federal drinking water legislation.
All Brizo faucets have Brilliance® finishes which means no tarnishing, no discoloring and no worries!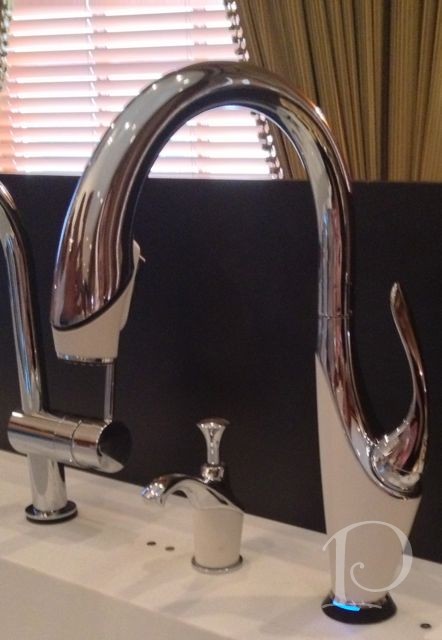 The Brizo Team has also been working on H2Okinetic® technology…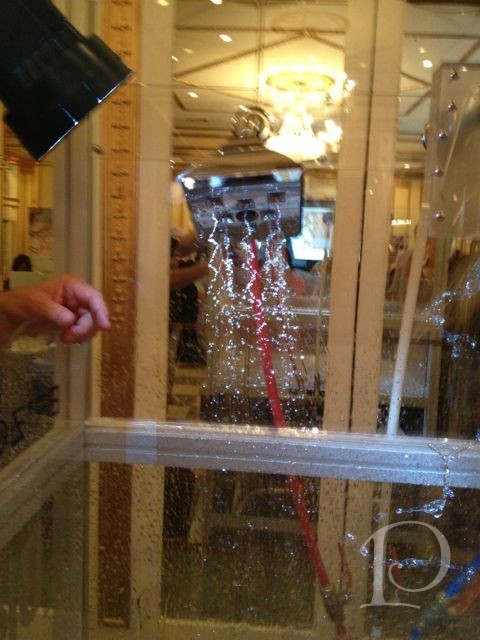 Just as the Brizo team studied the habits of a family in the kitchen, they also studied individual habits in the shower as they were striving to design a better shower experience. They learned that some people shower top to bottom or vice versa, some shave various areas and even, ahem, brush their teeth in the shower (?!).  Most people love this alone time. When people were asked what they wanted most in a shower, the overwhelming answer was body jets.  Brizo has delivered with their H2Okinetic® technology which controls the shape, velocity and thermal dynamics of water and  creates a better spray on the body with less water.  This demonstration was enlightening and made it easy to see how this technology will change the shower experience for the better!
Brizo also found that families wanted a way to protect their children from scalding water.  Brizo's  Sensori® Thermostatic Valving  works like a thermostat in high flow showers to massure and monitor the temperature of the water.   It automatically adjusts the water mix to maintain a more precise water temperature. Woo Hoo!
Judd Lord is the Director of Industrial Design for Delta Faucet Co. and one of the creative artists behind the designs at Brizo. Judd  thinks "outside the box" and it shows!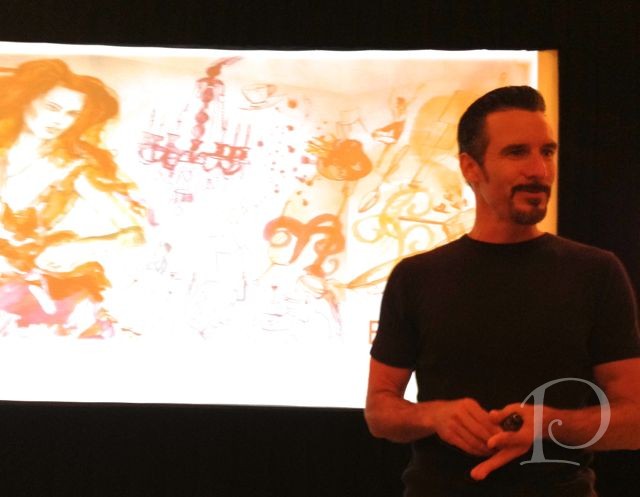 TaDA…Tub Fillers!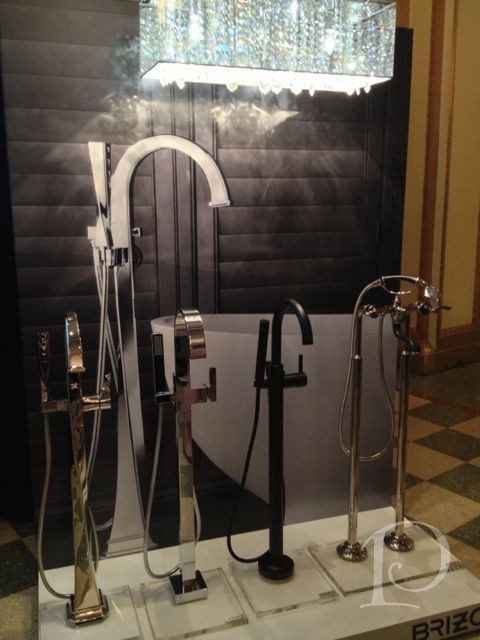 The latest and long-awaited Tub Fillers, aren't they just gorgeous? I love the one on the left with the swirl ~ it reminds me of a slightly flared twirling skirt. This is such a unique and beautiful collection…Bravo Brizo!
Next up was the factory tour…
A peek at some of the supervisors at the manufacturing facility that we toured: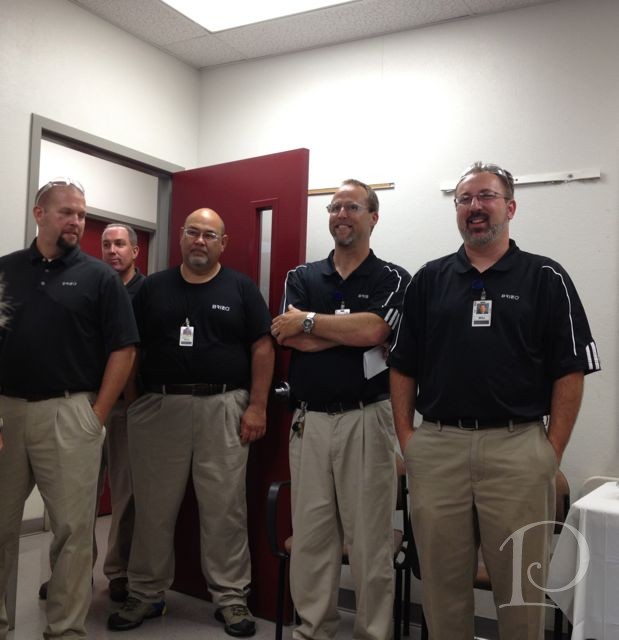 Everyone working that day wore black Brizo shirts and the pride they took in their craft was evident.  I was amazed to see how much of the work was done by hand, such precision and care!
Each time I attend a design conference I learn so much and this trip was no different.  I cannot wait to share my  knowledge and the fabulous new Brizo products with my interior design clients.  Thank you to the Brizo team for a wonderful experience!
xo,
Pamela
If you missed Part One of my latest Brizo trip recap and our visit to St. Jude's, see it here
Disclosure:  Brizo sponsored  this #Blogger19 reunion event and as their invited guest, Brizo paid for my airfare and travel expenses
2
Share this!
Tweet