Barcelona Travel Journal, Part 2
Oct 05 2017 · 0 comments · Travel ·

0

One blog post is just not enough to share my recent trip to Barcelona ~so here go with Part 2!

(if you need to catch up, you can read my Barcelona Travel Journal, Part 1, here)

I've always found that some of the best sightseeing can be had walking the streets of neighborhoods. This has held true in most places I've traveled to, and once again in Barcelona.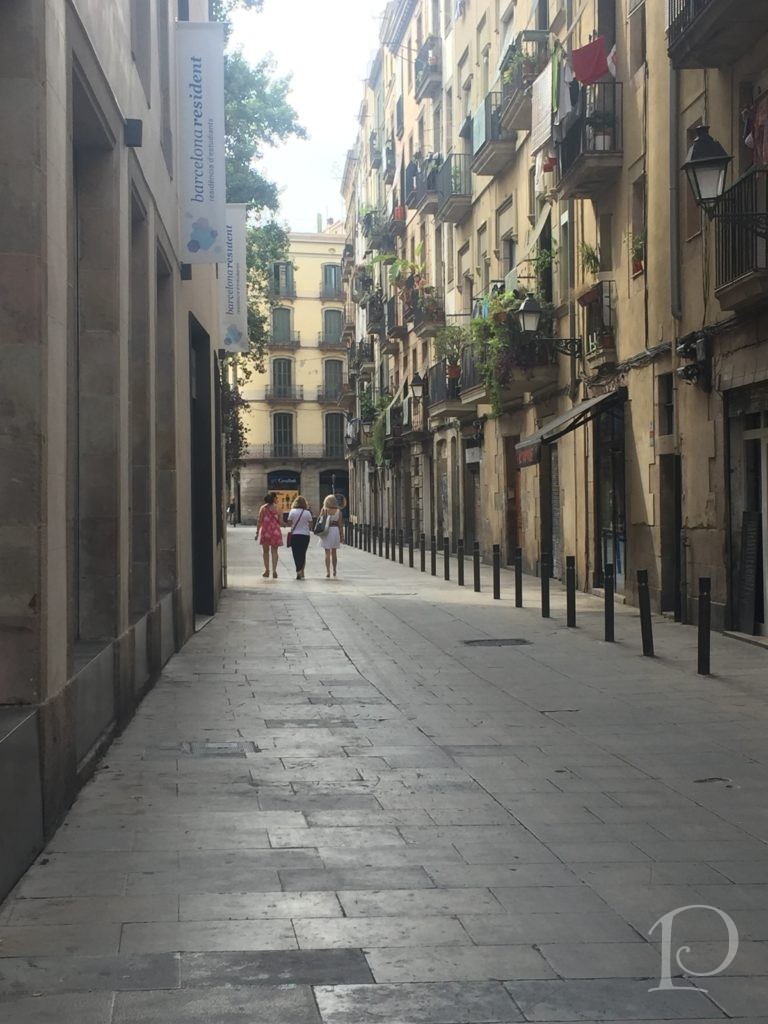 This section of Barcelona is very stylish and filled with boutique stores and cafes. This motor bike rental shop caught my eye with the not only the scooters but the cool poster on the wall.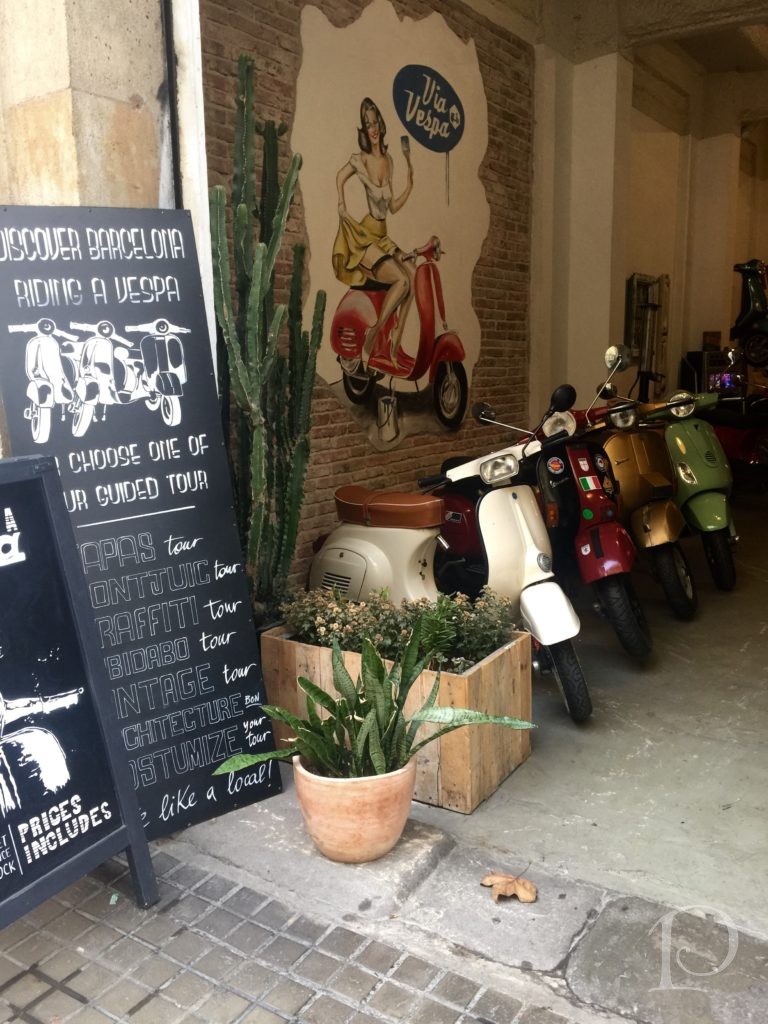 And just a bit beyond we found a stunning bike all dressed up and waiting to be rented.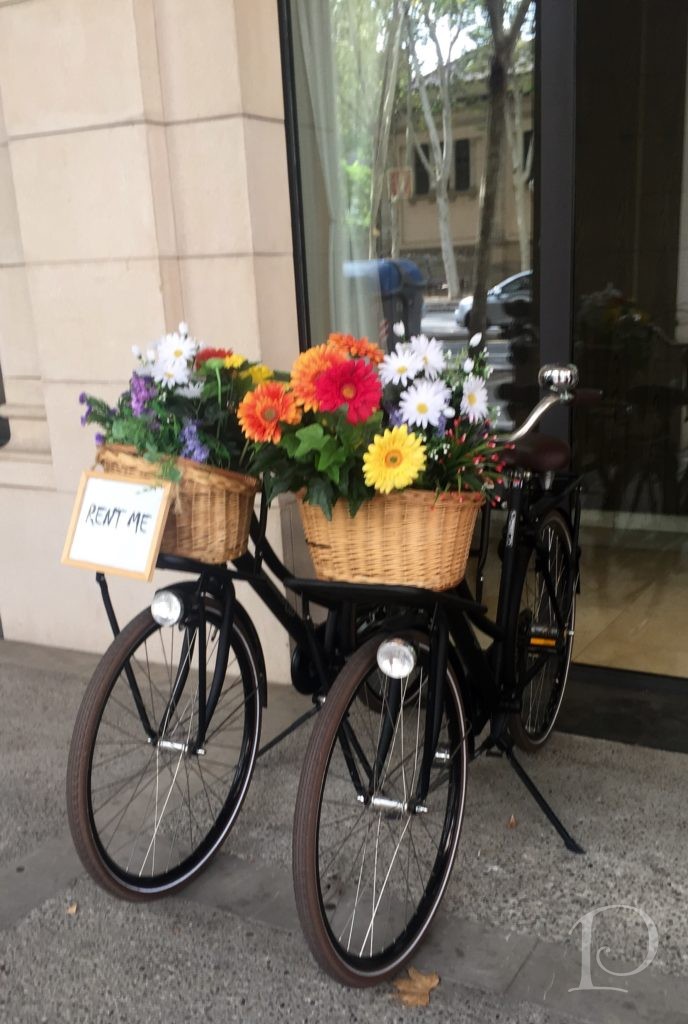 As we continued to explore on foot, I was fascinated by the graffiti.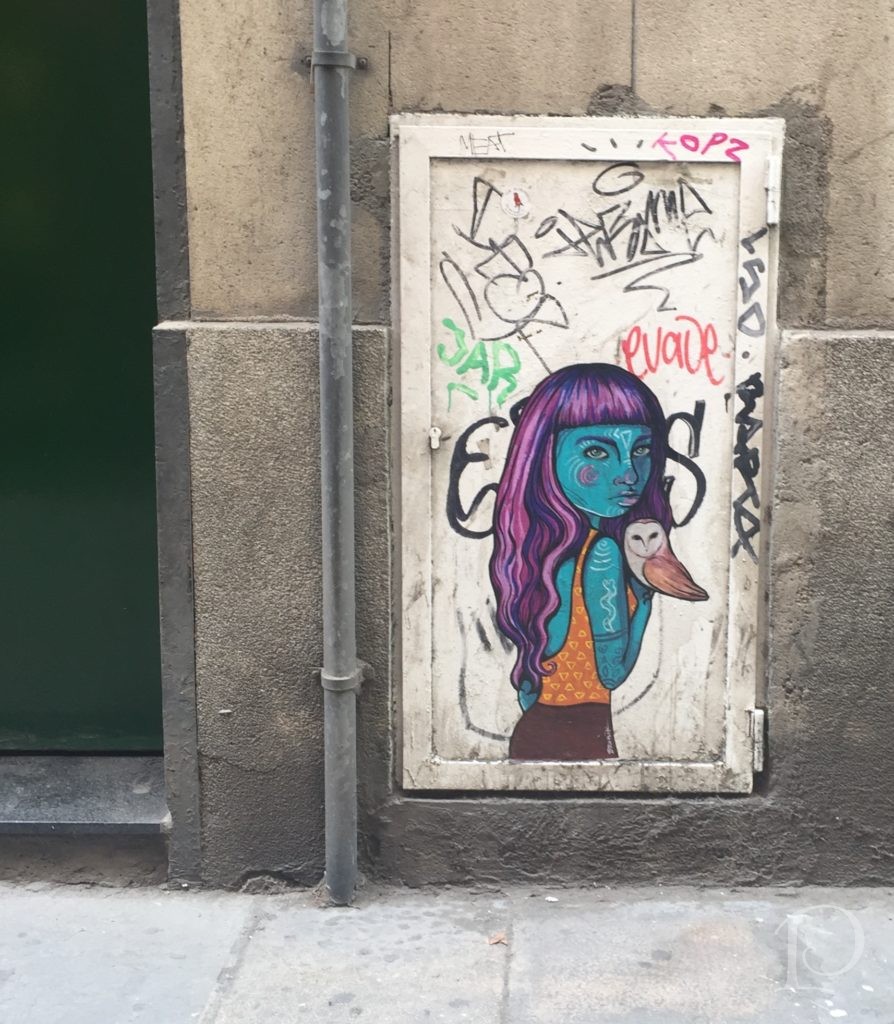 Whenever we sat down to have an al fresco lunch or when we were waiting in line, there always seemed to be musicians at the ready to play for us. What struck me was that they usually played When the Saints go Marching In.  Hmmmmm…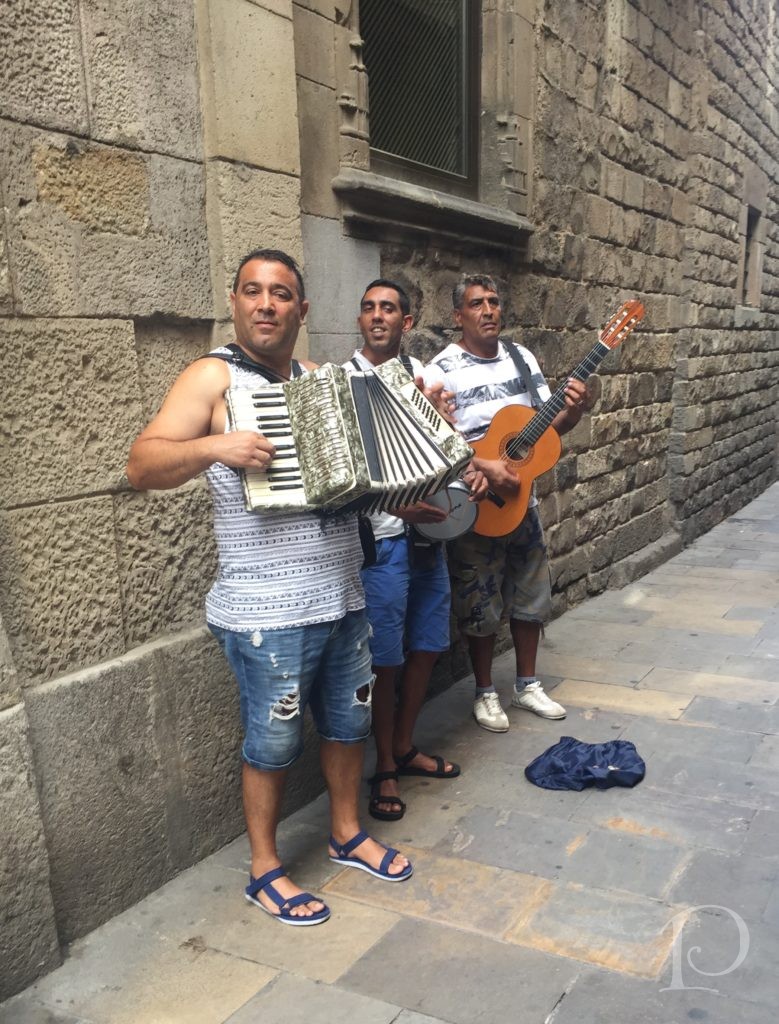 All this walking around in the Barcelona heat (in August!) meant that fans were in high demand.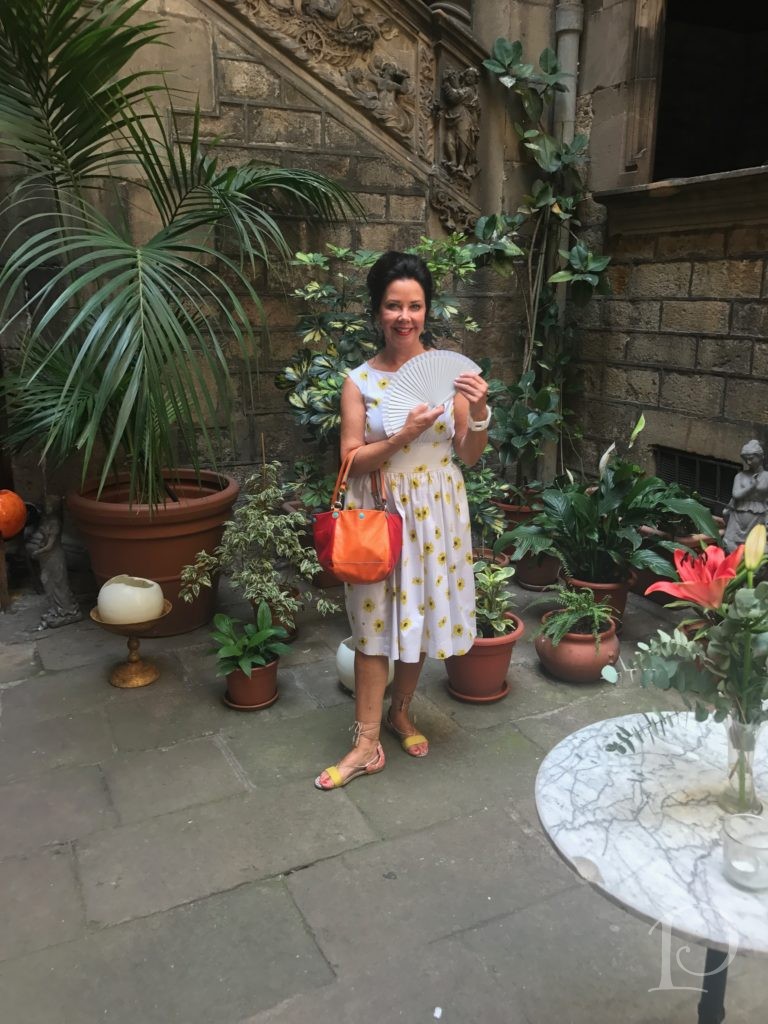 Gaudi's Casa Batllo
Casa Batllo was designed by Gaudi for the Josep Batllo family between 1904-1906. At the time it was located in the heart of the most fashionable and elite streets of the upper class. For many of the rich, building fantastic homes designed by talented architects was an opportunity to outwardly showcase their wealth.
Gaudi commenced this project at the age of 52. He combined the strickest constructive functionalism with maximum visual daring. This design was based on the laws of nature that inspired all of his forms and structures. With bravery and liberation Gaudi designed a home of joy and dynamism that is universally admired today.
Come take a tour with me!
Entering the home, the newel post is just a hint of the detail and design to come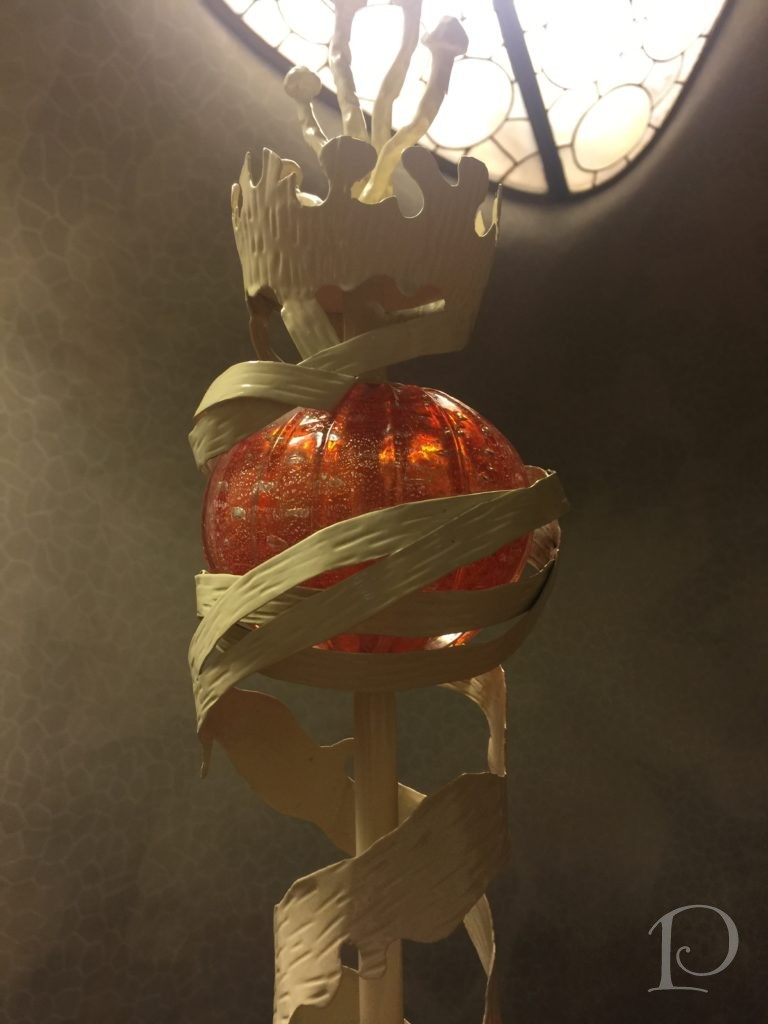 Much of the inspiration for the design of the home was drawn from the sea. For example, waves were recreated in undulating wood banisters and headings over doorways. I must see if my carpenter can create some of these twists and turns!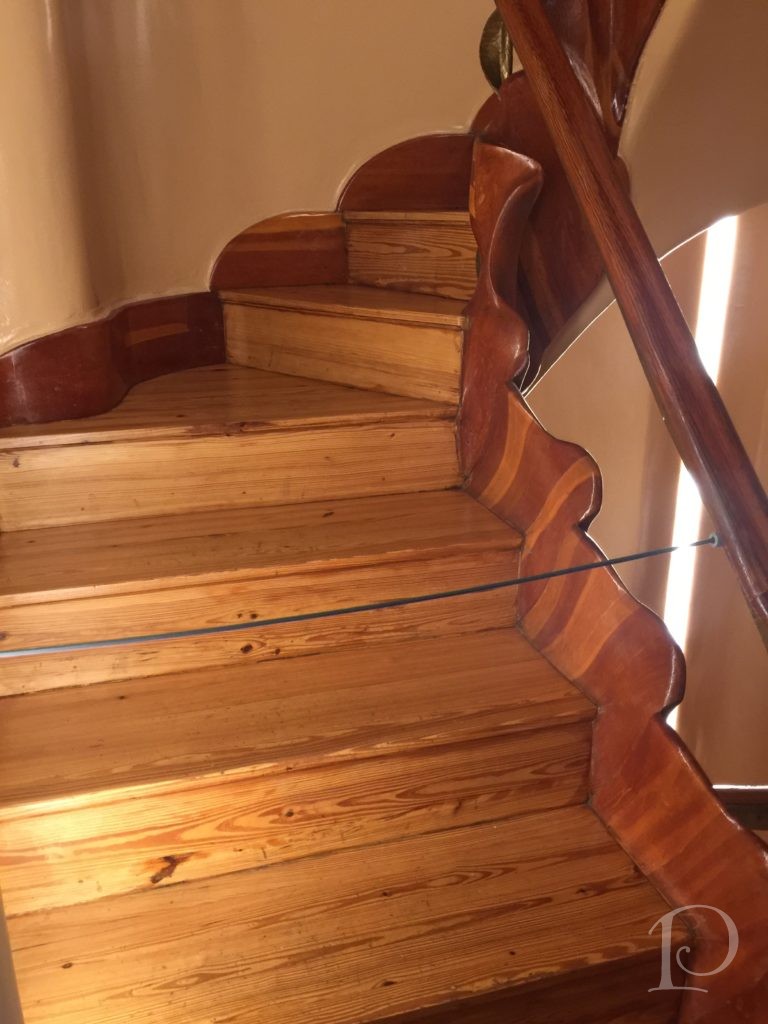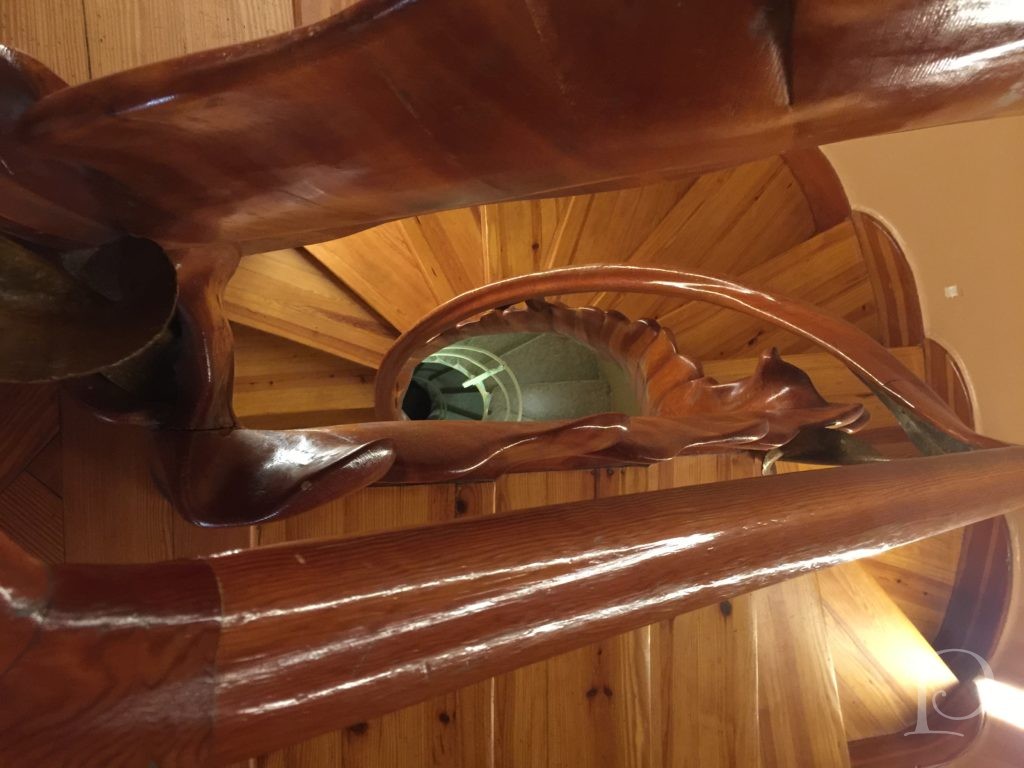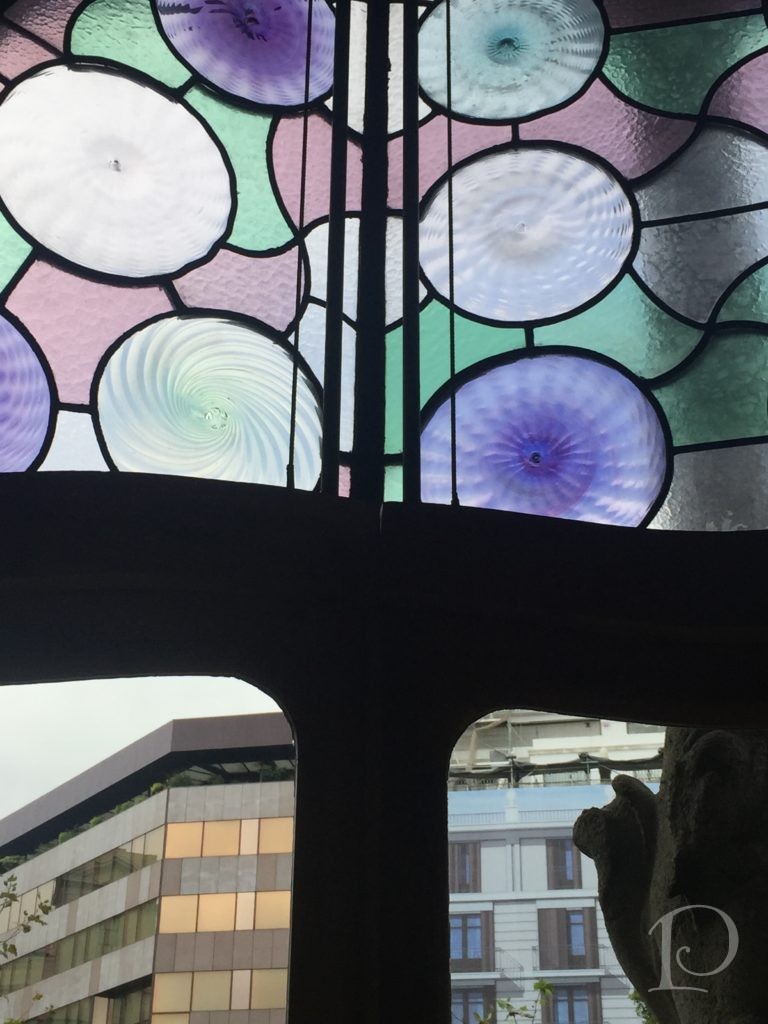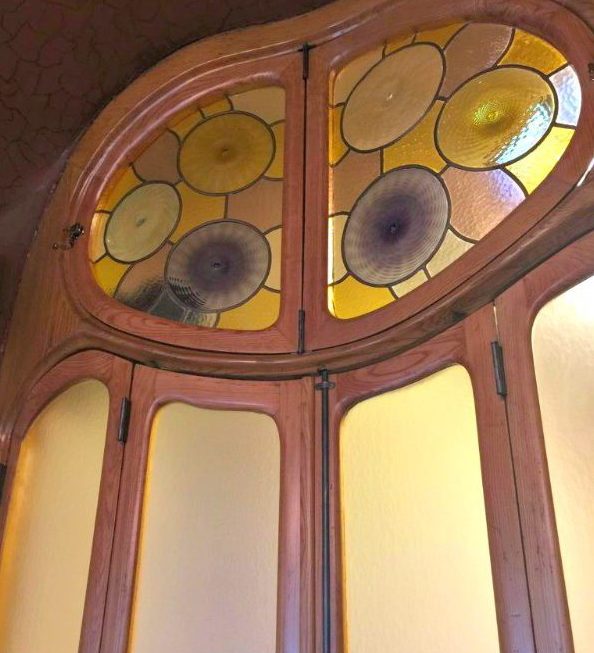 Just look at this magnificent window to the avenue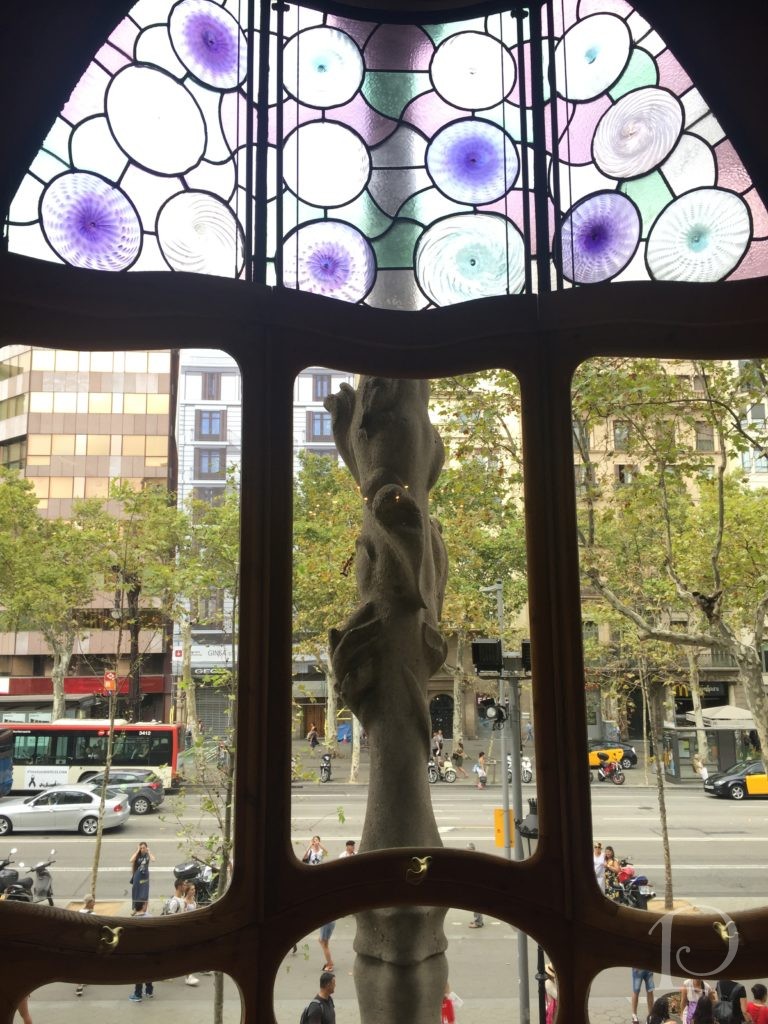 The central patio well was very interesting, I can see it as inspiration for my future spa wall….
This central skylight is four stories high and helps flood the interior of the home with light. I loved the ombre effect carried out with tiles ~ featuring a darker value at the top, the tiles become lighter towards the bottom. And the window surface is greater at the bottom to make the most of the natural light! Wow!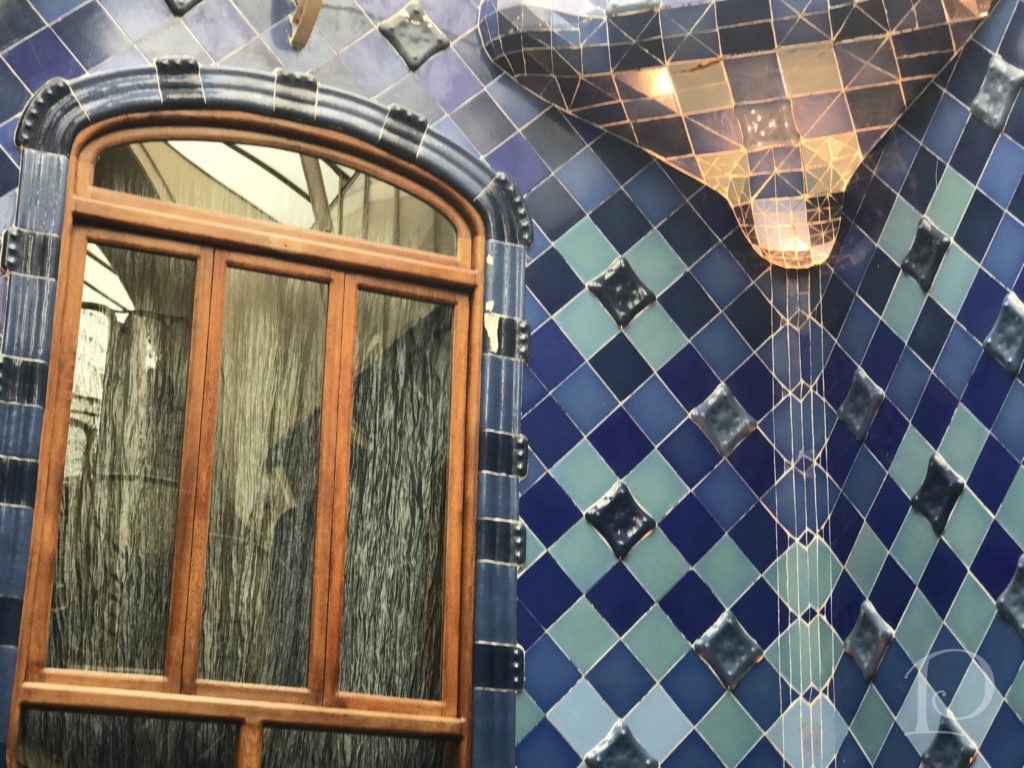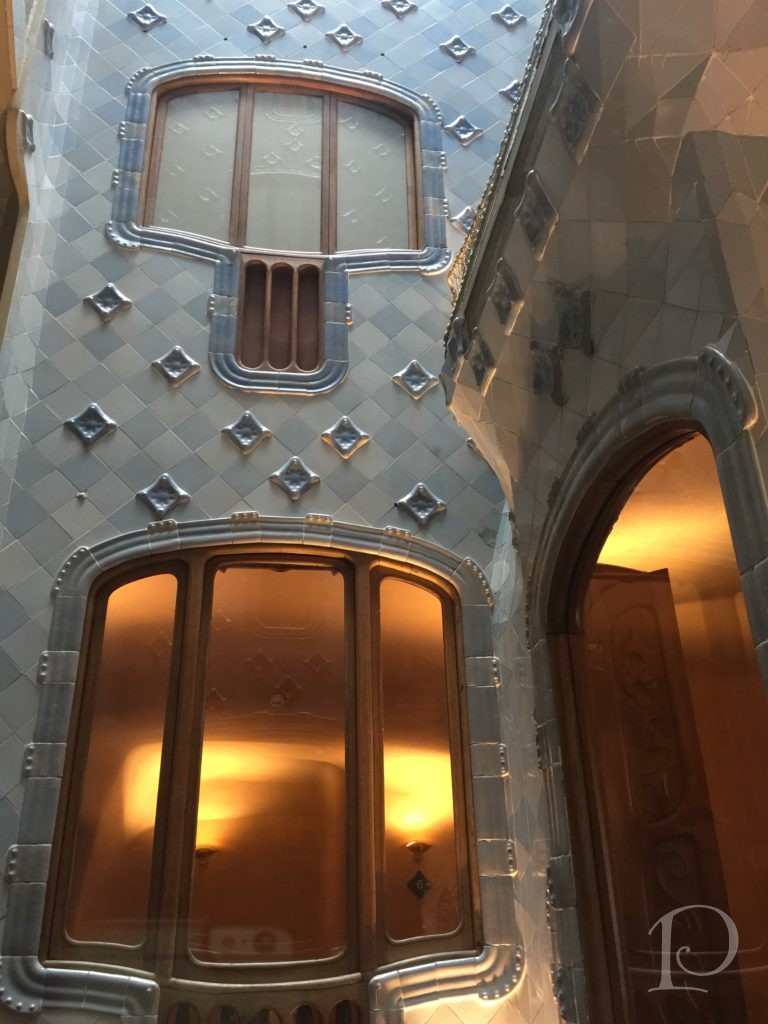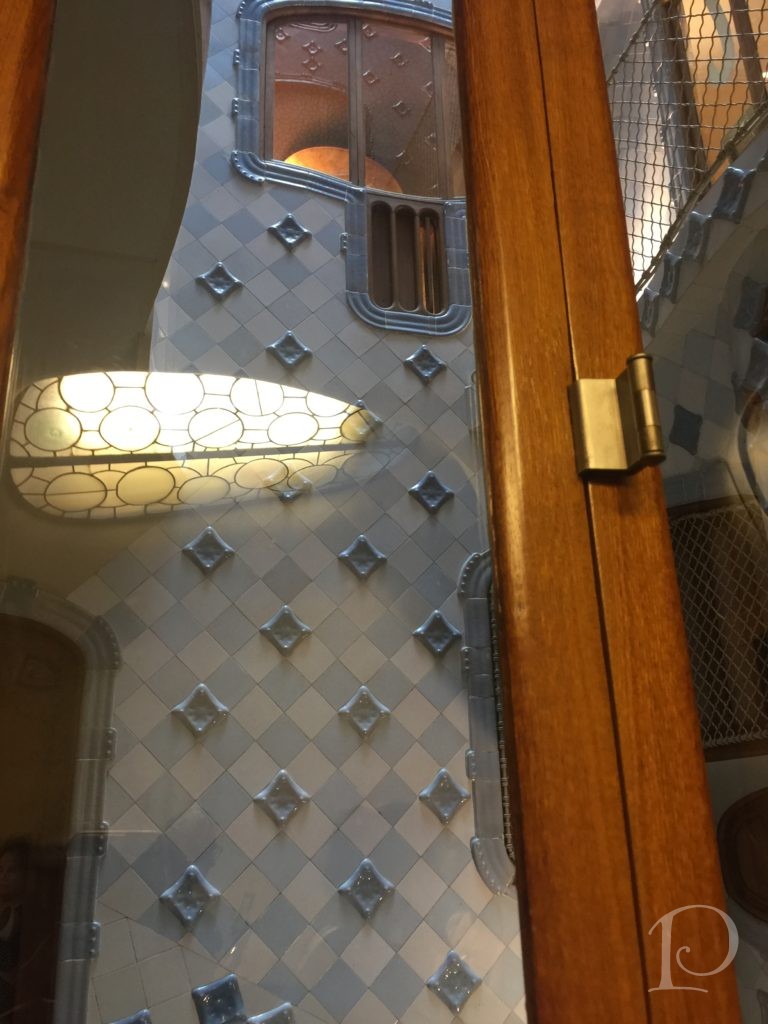 The hallway to the 3rd and 4th floors is a direct contrast to the first 2 floors where the Batllo family resided. These are very modest.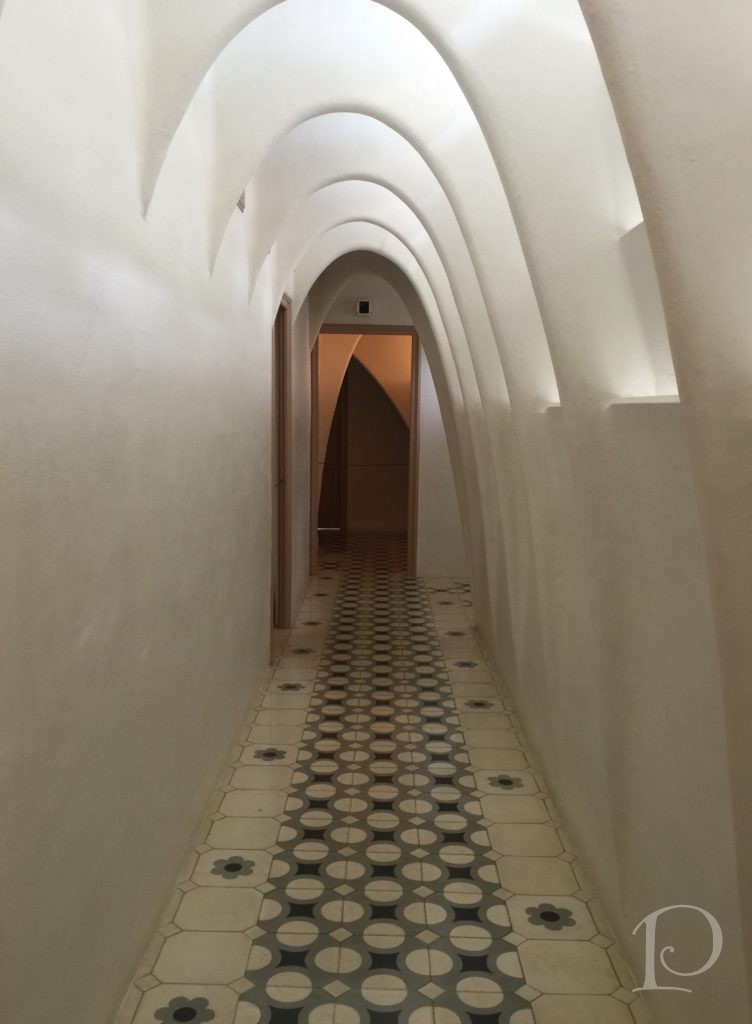 The rooftop terrace at Casa Batllo has many unique features including these chimneys, said to be designed from a figment of Gaudi's imagination. The textures and colors glimmer in the sunlight, just one of the reasons the Casa Batllo is considered one of the Seven Wonders of Barcelona.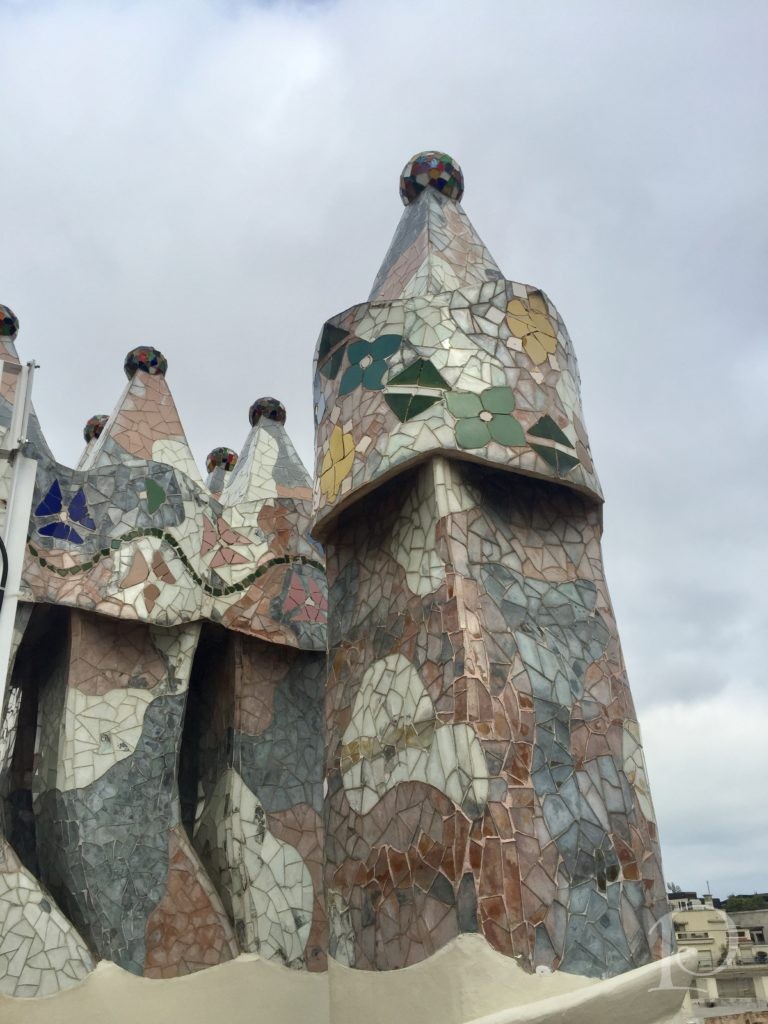 This tower features a four armed cross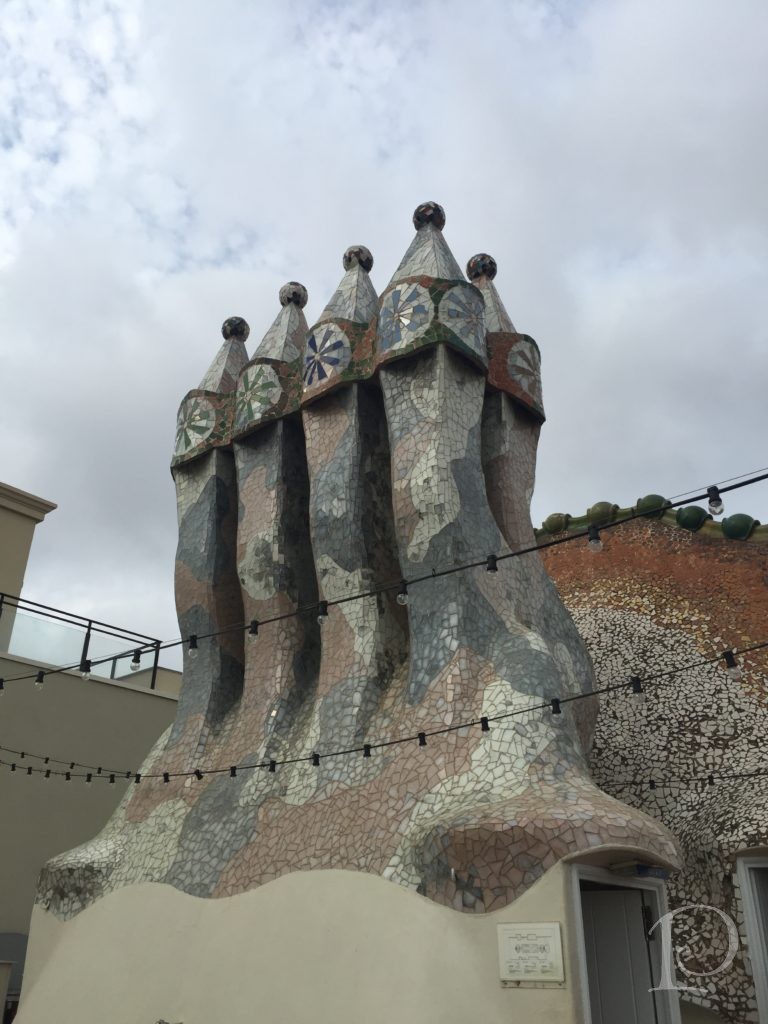 More wavy features (this one said to be a dragon's back) are accented with glass mosaic pieces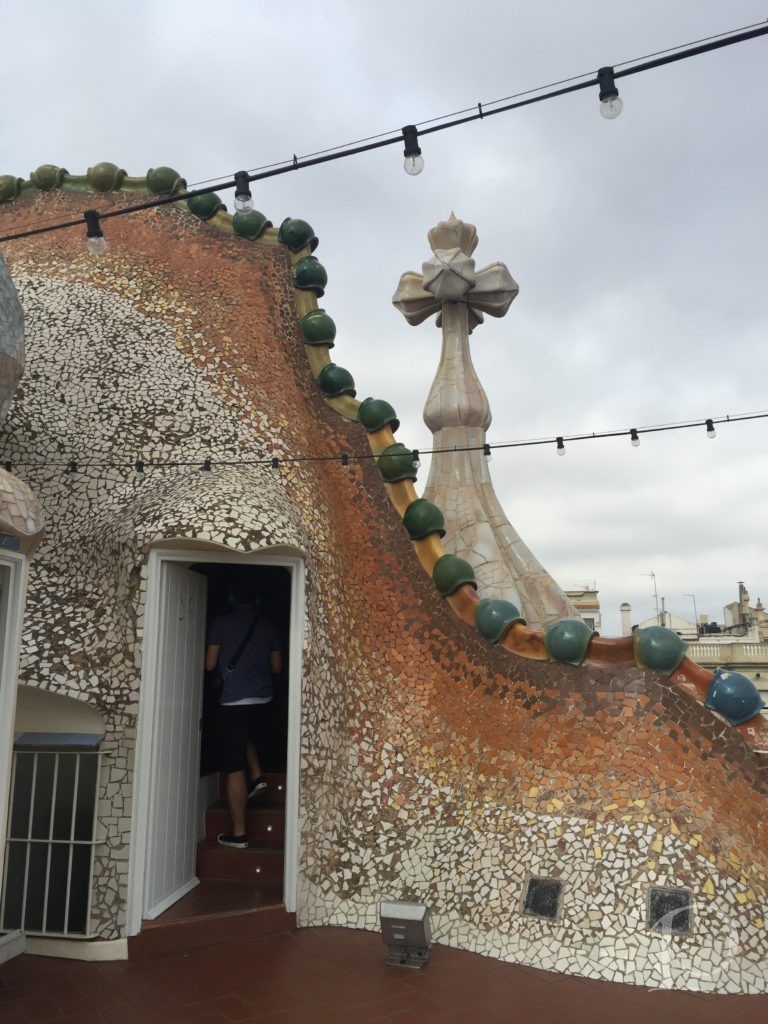 The other side of the rooftop has a patio with a view of the home and other balconies.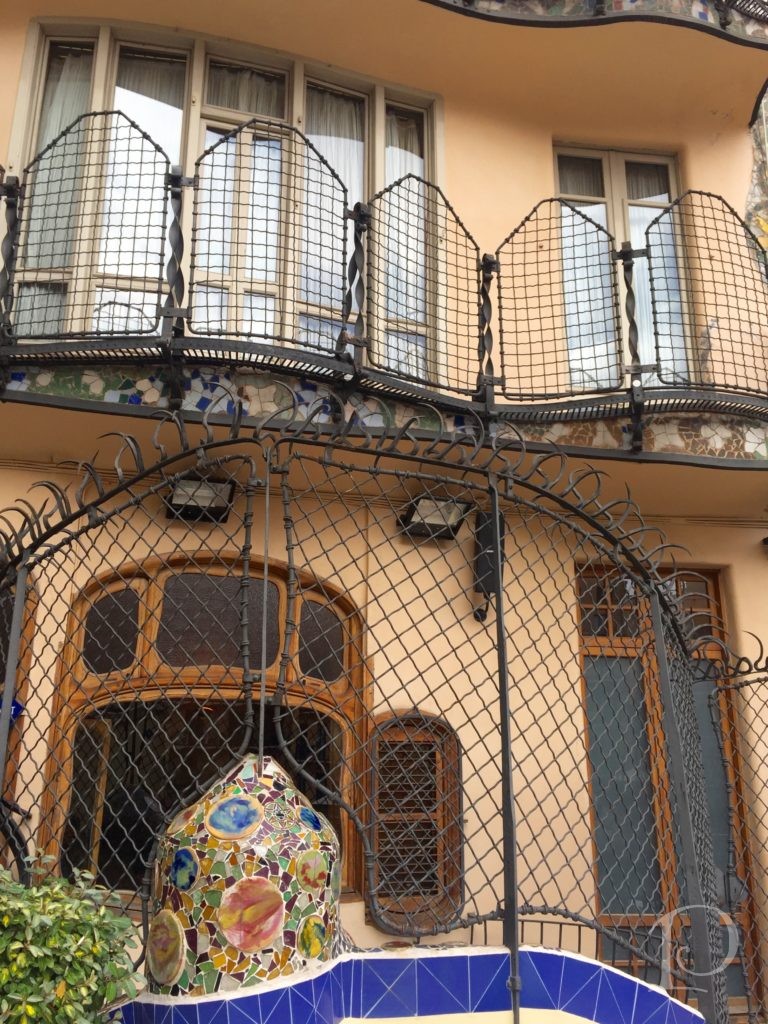 The back wall of the patio is decorated with ceramic and glass medallions which serve as a gorgeous backdrop for the flower beds.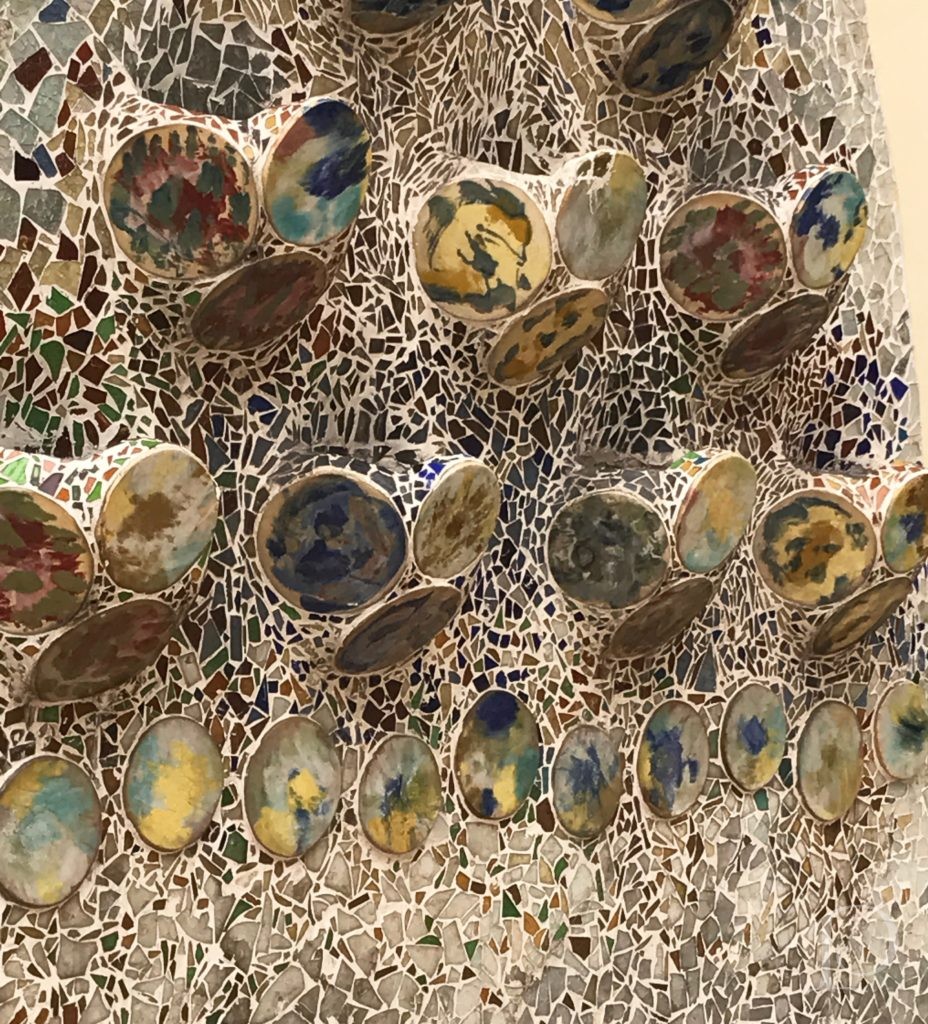 The exterior of the Casa Batllo is coordinated with the interior.  The building curves echo the interior features. The exterior walls are decorated with mosaic work and the windows are embellished with stained glass.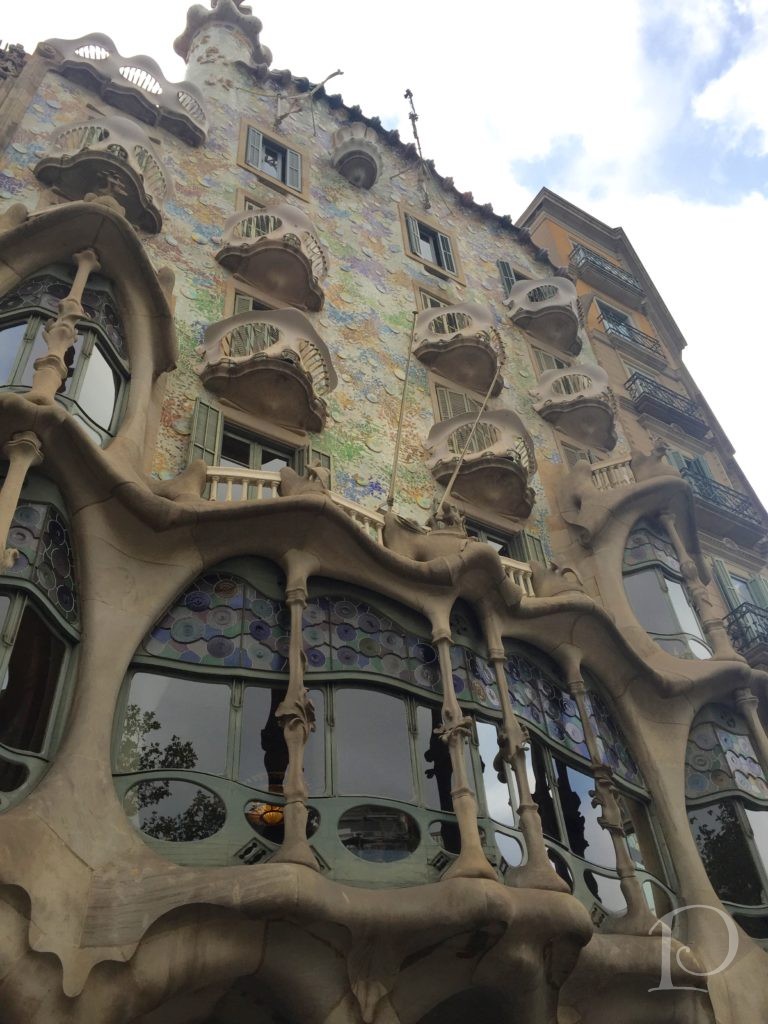 What an amazing place to visit and explore, I highly recommend!
Delectable Dining
Now, just so you don't think that all I did was museum hop between various architectural wonders, I also ate VERY well(!)
One day our group went to La Boqueria, a large public market in the Ciudad Vieja district of Barcelona.
Our first stop was a restaurant my friend Donna had researched.  At La Quim de la Boqueria we enjoyed an amazing tapas lunch and Sangria. It is a "bar", meaning U shaped seating that surrounds the cooking area of the restaurant. Watching the food being prepared is top notch entertainment!
There are 8-10 chefs all cooking in a small area. With choreography reminiscent of Cirque de Soleil, the chefs prepare and present each patron with the freshest and finest meal of tapas in all of Spain.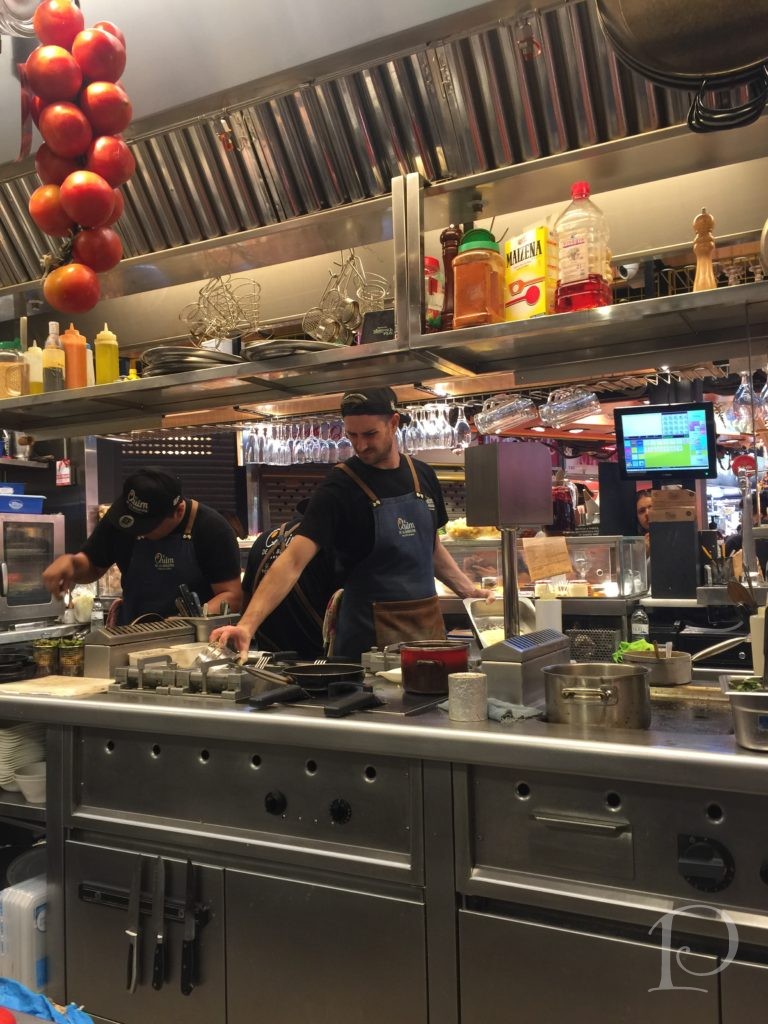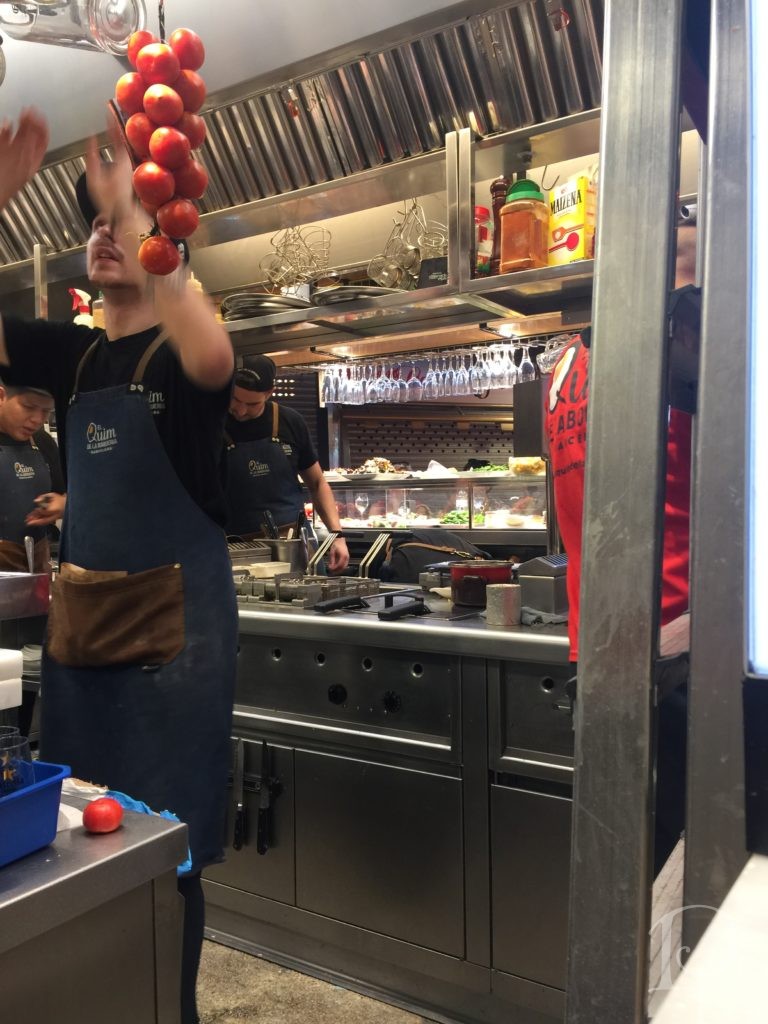 My friend was treated with extra special service 😉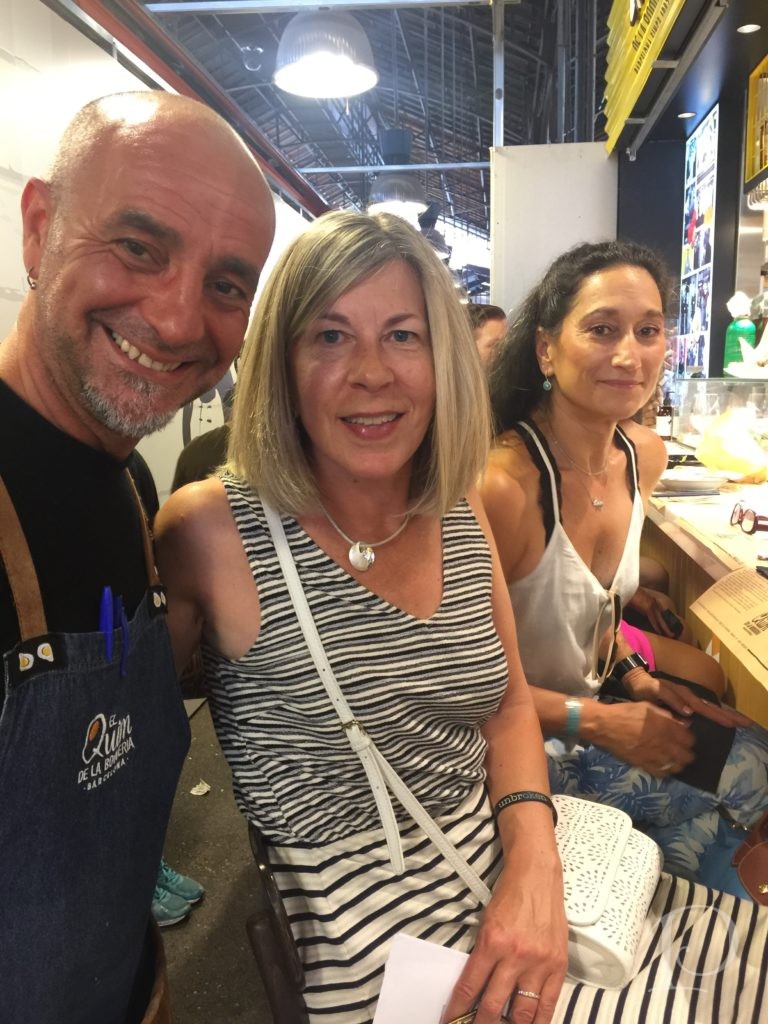 After lunch I was off to explore the rest of the market. What a diverse selection of offerings! I discovered everything from fresh fish to candy by the miles…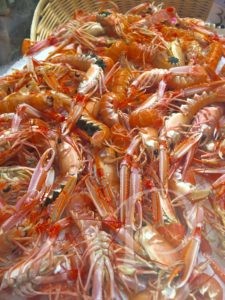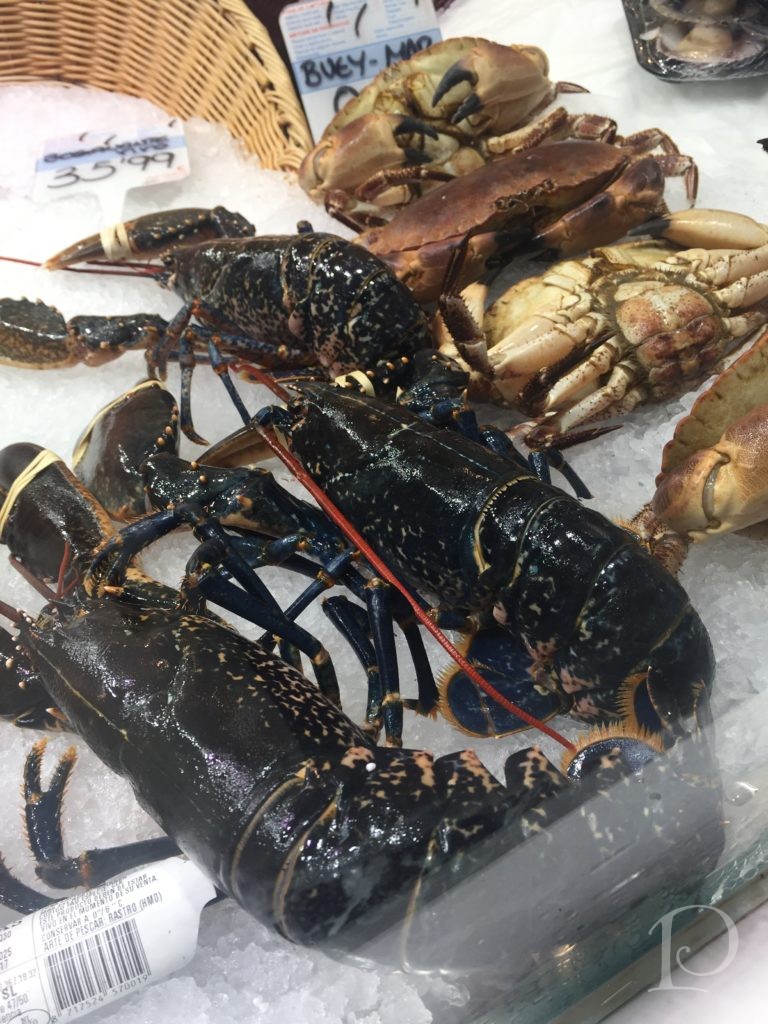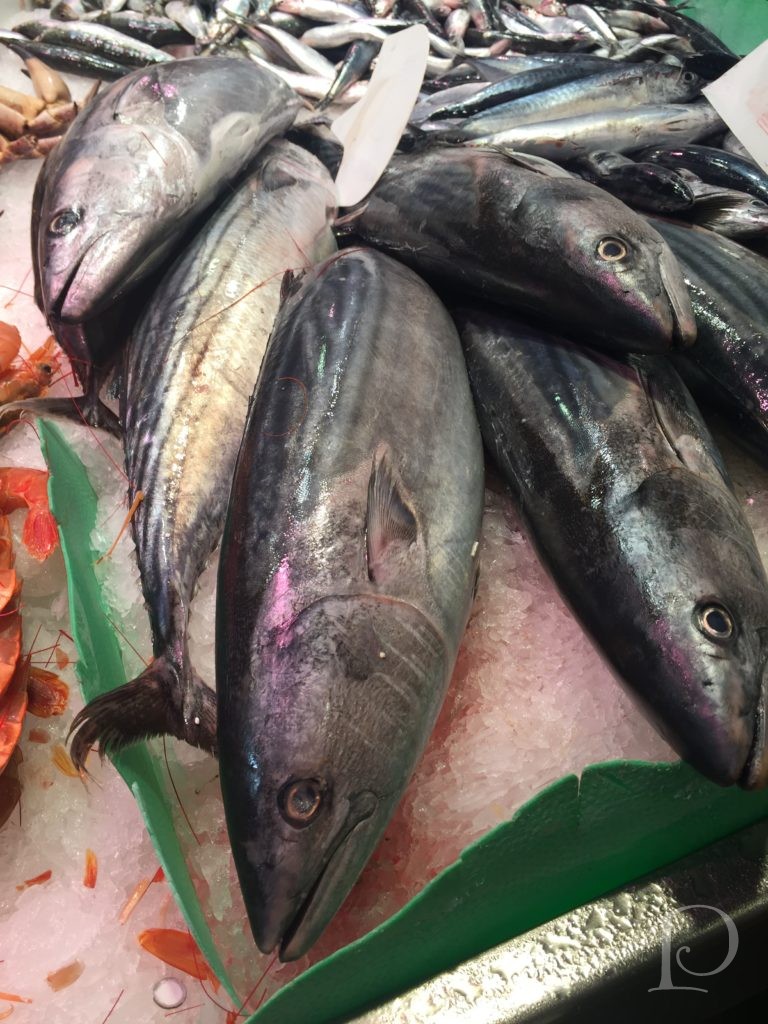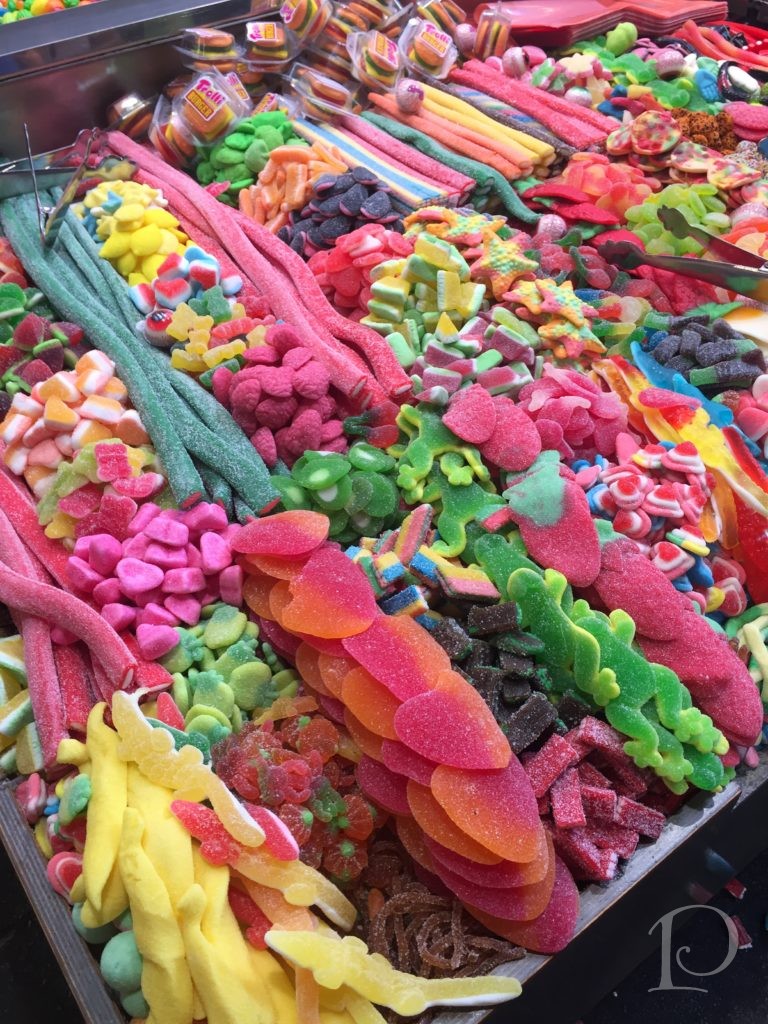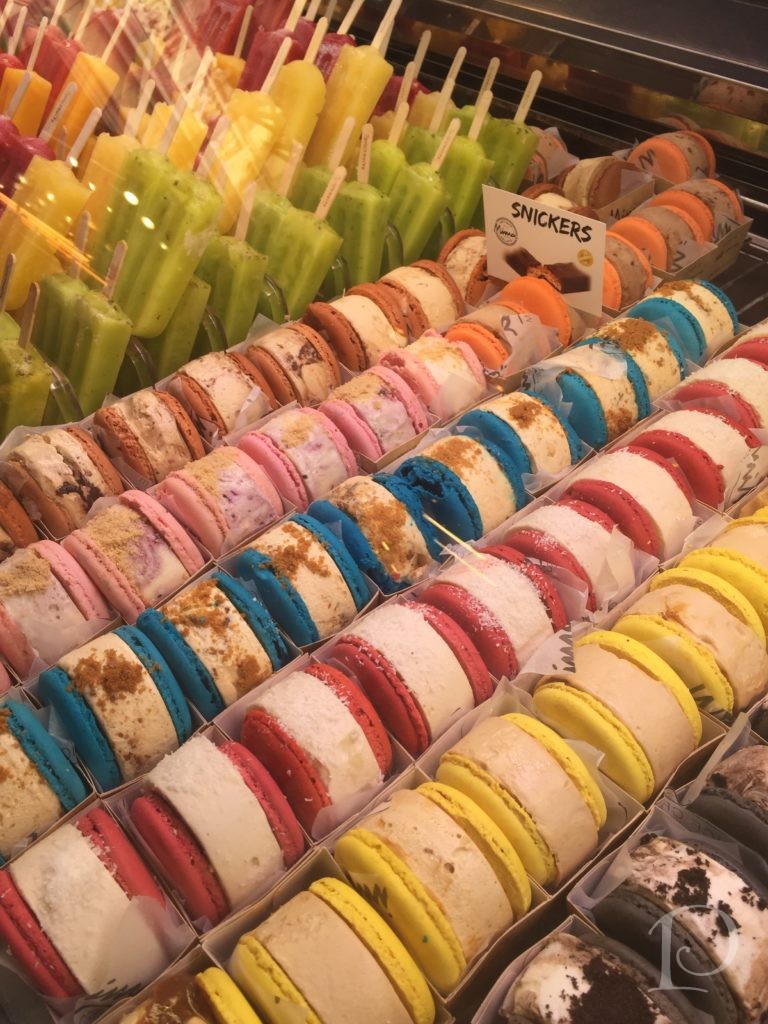 Dancing? Of course!
What would any Pamela Copeman trip be without dancing?  In this case, it was flamenco dancing.
We went to a show with musicians, a singer, and two of the most talented dancers you can imagine! The male dancer was so fast with his footwork that I couldn't even capture it!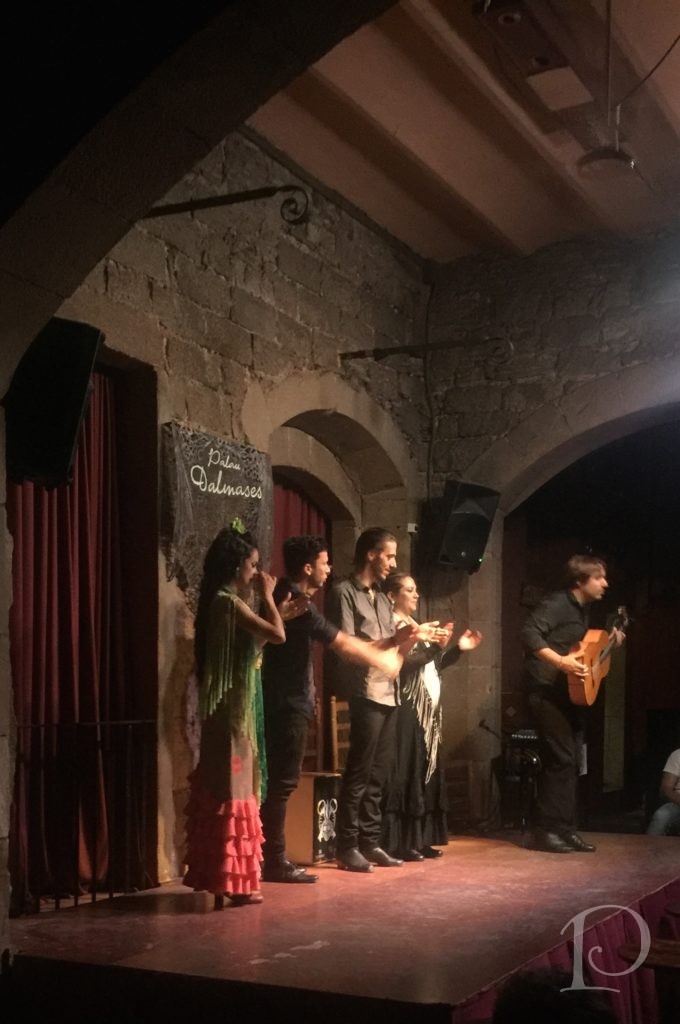 The female dancer was just as breathtaking (only she had a better ensemble).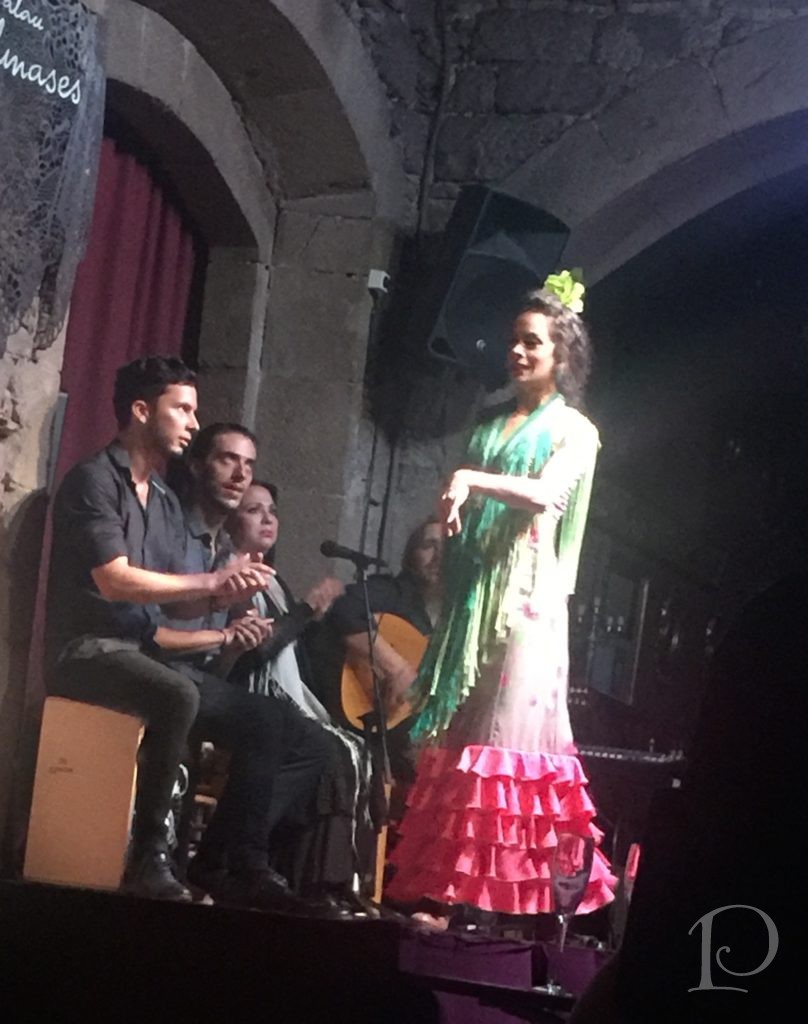 A wonderful night with friends!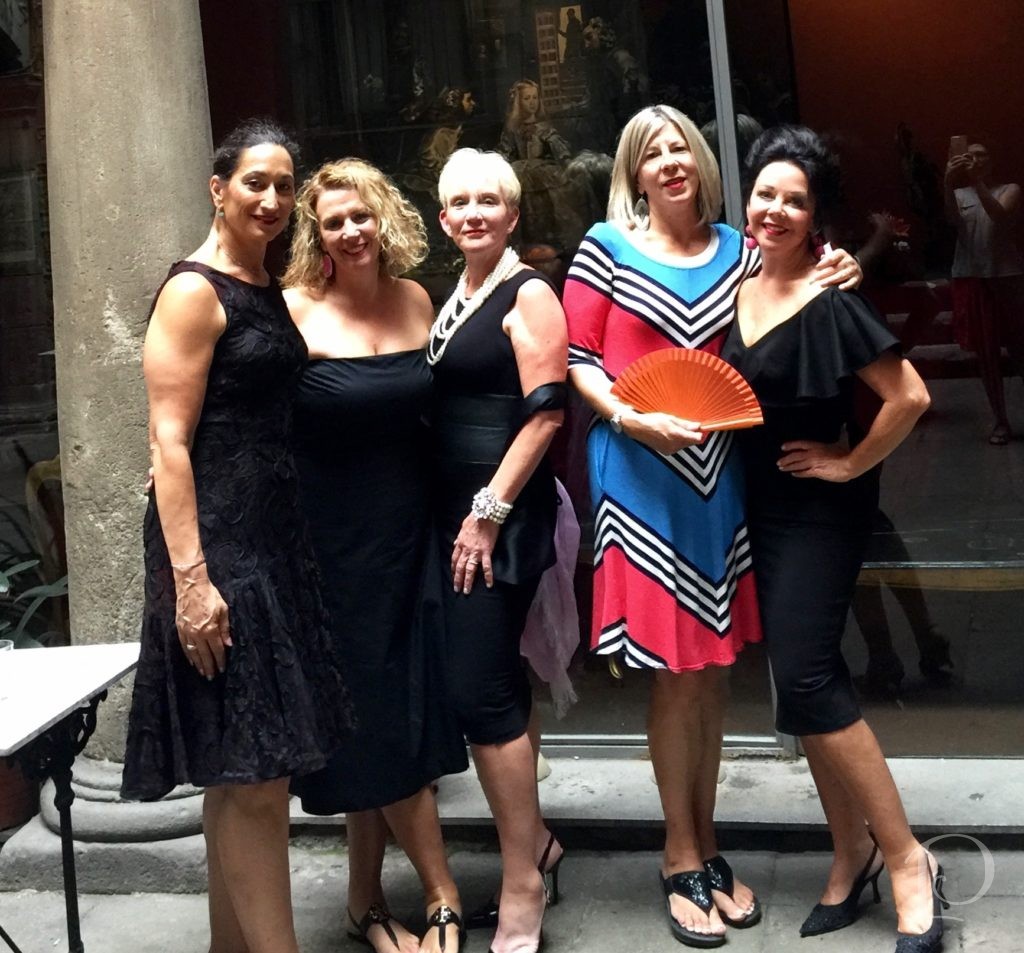 An amazing trip!
This was a trip that my dreams are made of, wonderful company, great meals, astounding and inspiring art and memories to last forever.
Thank you for following along on my Barcelona vacation ~ I hope I've inspired you to consider a trip to Barcelona for yourself! If you have any questions about what I saw & did in Barcelona, please leave them in the comments and I'll do my best to answer. And if you missed Part 1 of my Travel Journal, read it here.
Remember, the best way to get your daily dose of inspiration and behind the scenes  between blog posts is to follow me on Instagram, @pamela_copeman_design and @pamelacopemanart. See you there!
xo,
Pamela
SaveSave
SaveSave
SaveSave
SaveSave
SaveSave
SaveSave
0
Share this!
Tweet