South Shore Living Magazine Holiday Feature: Designers Deck the Halls
Dec 05 2013 · 0 comments · Holiday, Inspiration, Press, Publication ·

2

I am flattered to be featured in the current (December 2013) issue of South Shore Living magazine.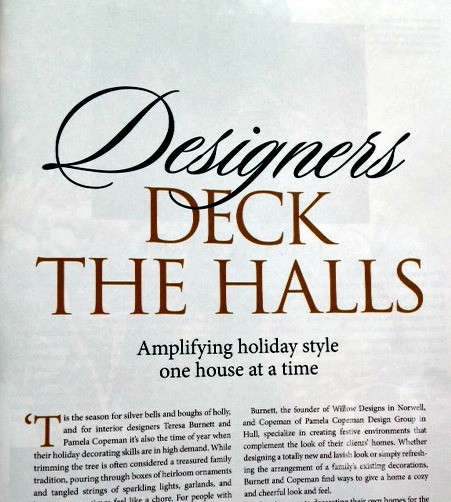 Along with interior designer Teresa Burnett, I was invited to share some of my favorite holiday decorating tips and traditions.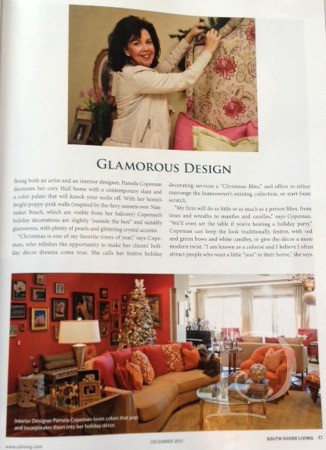 While glam Christmas designs are my signature, I also love the traditions and memories that come with decorating for the holidays.  What's better than unwrapping cherished ornaments and decorations and revisiting the memory each one holds?  Many of the ornaments in my personal collection are souvenirs of travels or gifts from a special person.  Each one is a treasure.
Of course I also enjoy updating Christmas décor  each year,  incorporating vibrant colors and new pieces  while still keeping the overall feel sentimental and personal.
I was thrilled that a photo of my blinged-out chandelier made the magazine feature.  After viewing (and adoring) the holiday windows at Bergdorf-Goodman last year in New York, I came home feeling my crystal chandelier was "naked".  I immediately "dressed" it for the holidays with loads of sparkle!
South Shore Living magazine is available throughout the South Shore and subscriptions can be purchased online.  Thank you again for featuring me, it's always a thrill!
xo,
Pamela
2
Share this!
Tweet