Behind The Design: My Monet at Giverny Inspired Table for Heading Home To Dinner
Oct 24 2017 · 4 comments · Behind the Design, Community Service, Design Events, Inspiration ·

0

For the last several months I've been planning and gathering materials for my table design at the inaugural Heading Home To Dinner event at the Boston Design Center.  I've dropped several hints and posted some sneak peeks on Instagram of my inspiration and design.  Now I am thrilled to  share  the completed design along with some of the fabulous people that helped bring everything together.
Background & Inspiration
Many years ago, I had the pleasure of visiting Monet's home and gardens in Giverny. At the time I was not a gardner but I did adore Monet's paintings of water lilies and the  iconic Japanese Footbridge located on the property.
When the Heading Home To Dinner event announced they were accepting bids from designers to create table and bar cart designs, I quickly settled on my theme:  Dinner with Claude Monet at Giverny.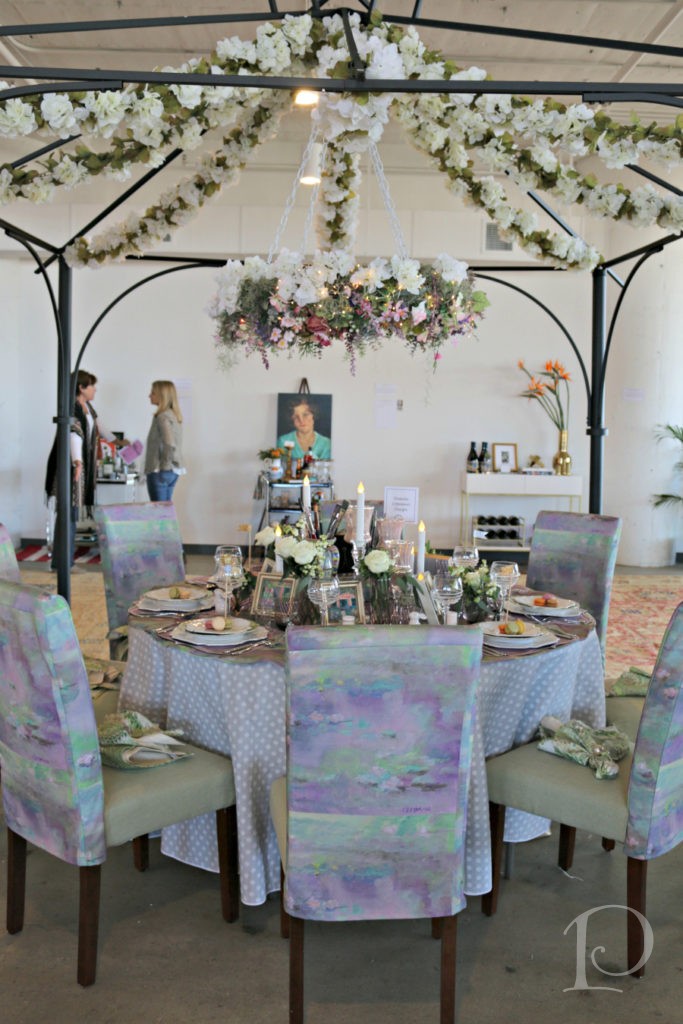 Within minutes I could visualize the table, the linens, the place settings, and a trellis arching over it all.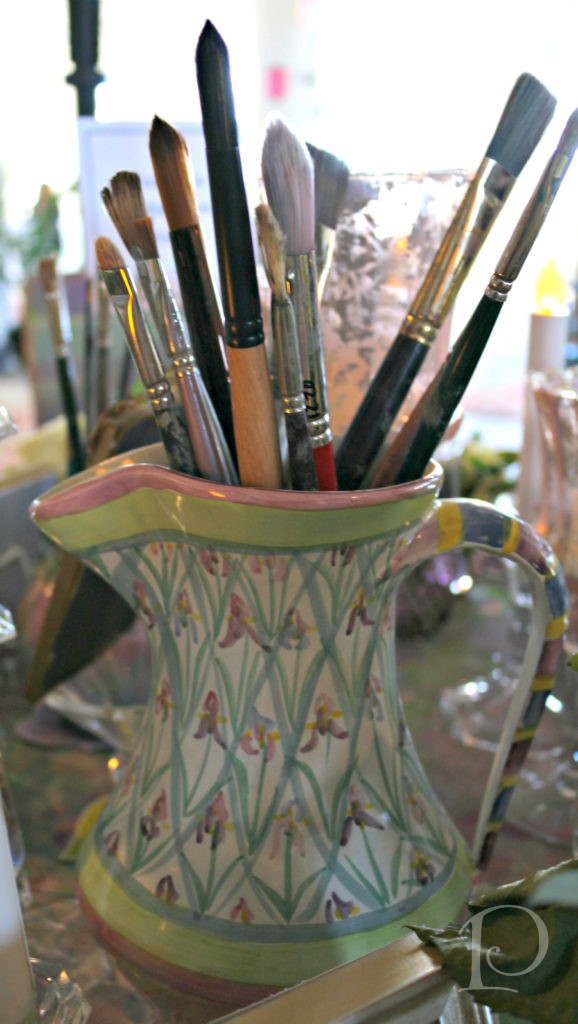 I was thrilled when I got the news that my bid was accepted and I would be designing a table for this amazing event.
Design Elements
As everyone knows, it takes quite a bit of work to go from a vision in your head to the finished product.  If only I could wiggle my nose a la Samantha in Bewitched and presto, everything would be done!  Instead it was time to start gathering, creating, and assembling…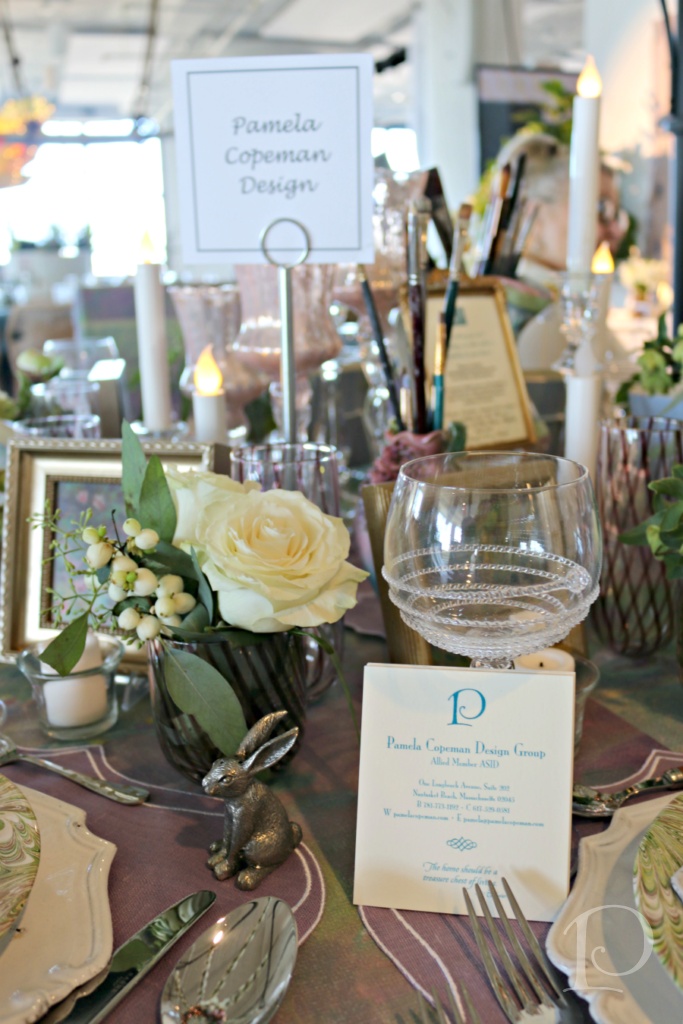 I love to paint (which is great, since I'm also an artist!) so I began by creating a Monet inspired painting featuring soft lavender, pink, and green water lilies.  With some help from my assistant Jen, I had my painting printed onto fabric.  That fabric was used to slipcover the backs of the Parson chairs and to create a fabric topper for the 60″ round table.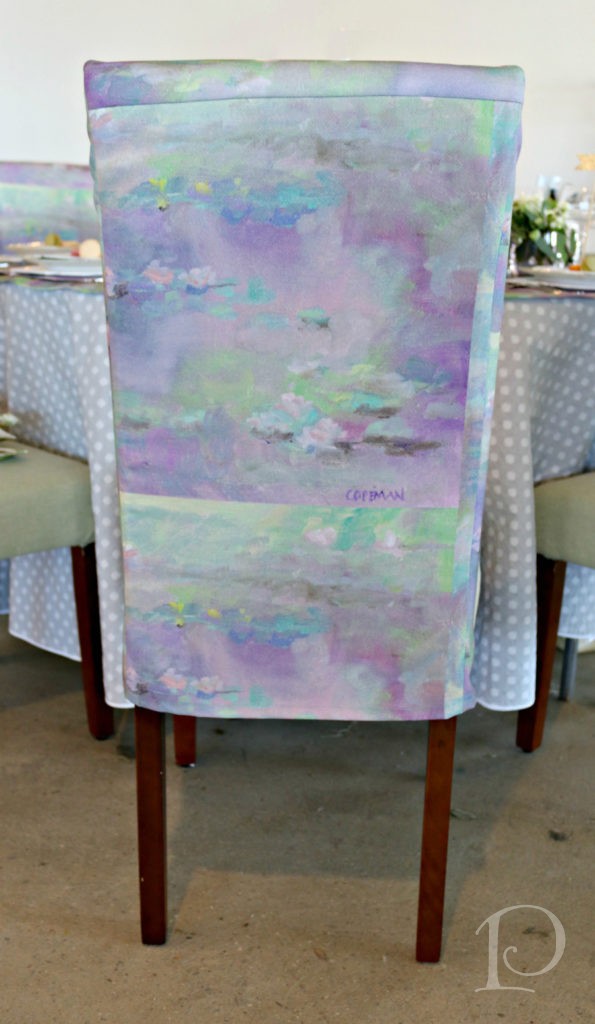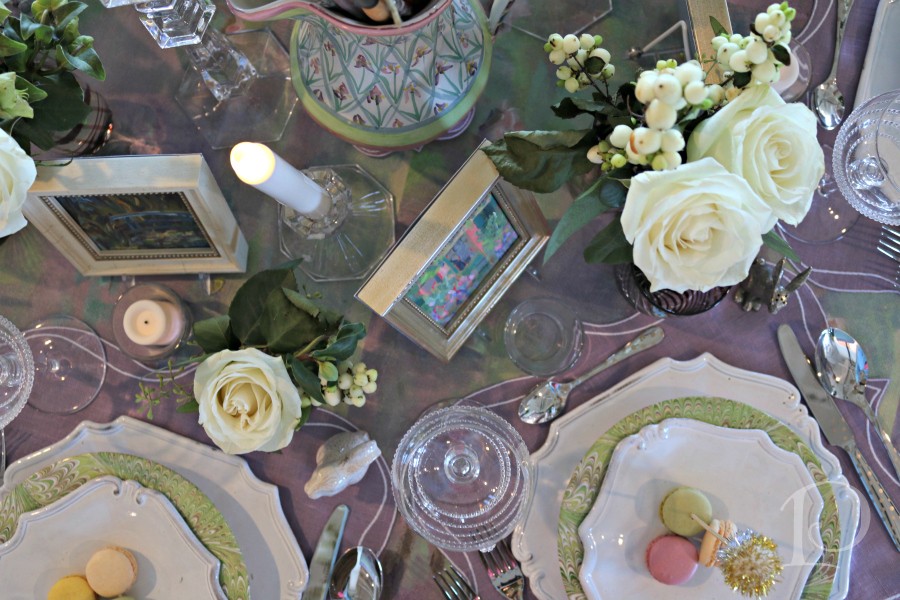 The topper served as a lovely backdrop for the intricate, layered place settings from La Petite Maison.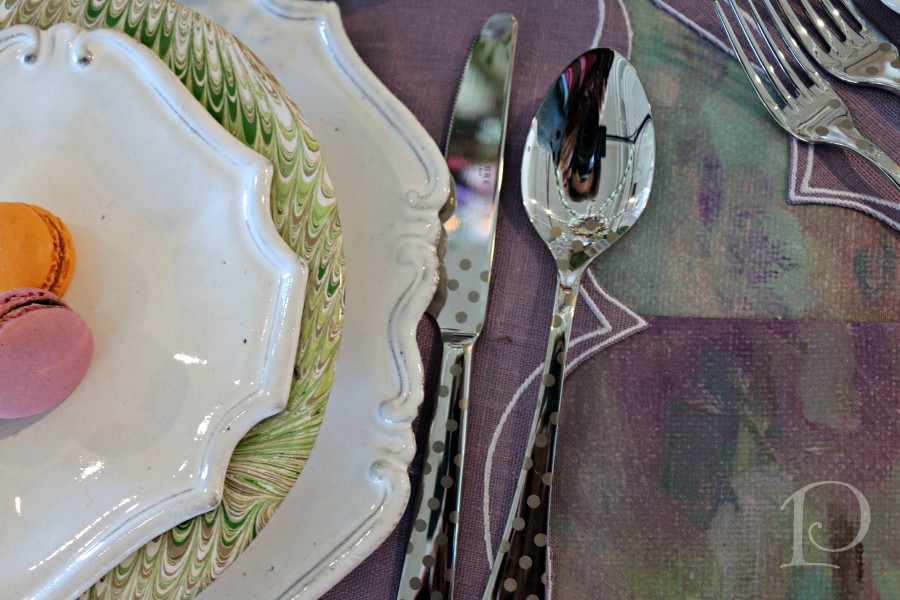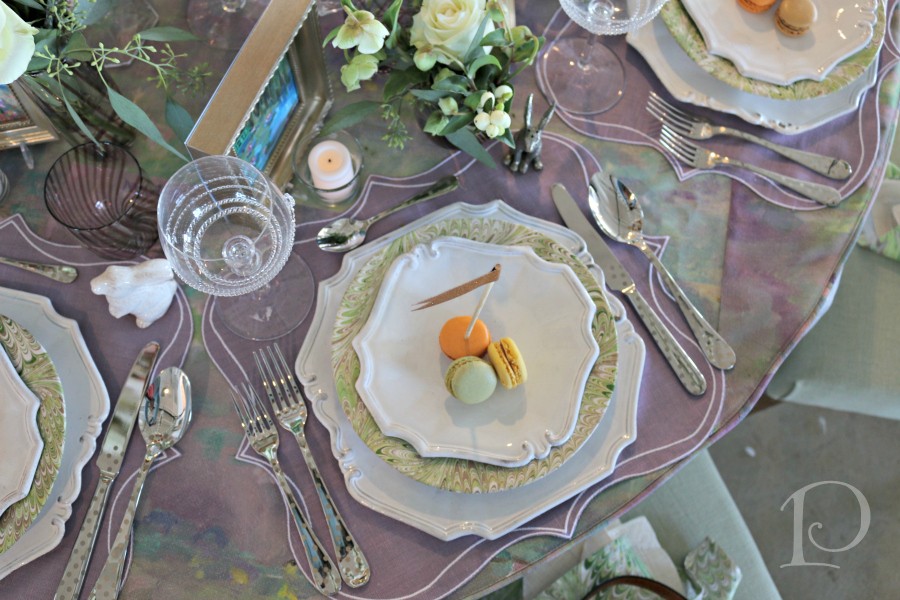 I also created eight petite oil paintings on canvas depicting different Monet inspired scenes from Giverny.  The paintings were given to the guests at my table on the night of the Gala as a thank you gift.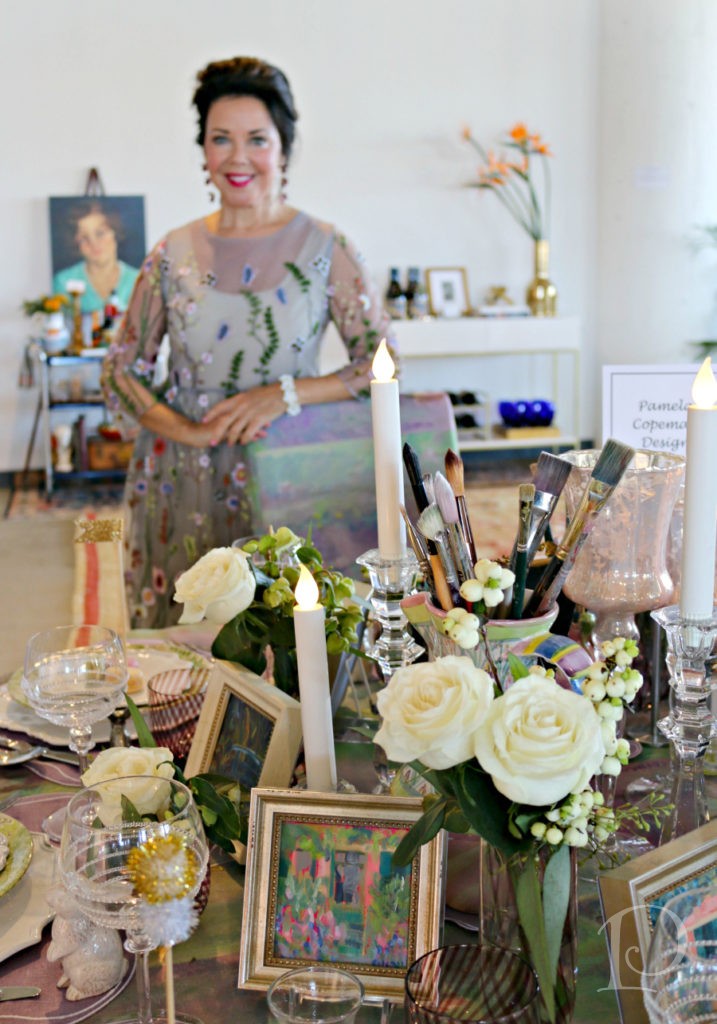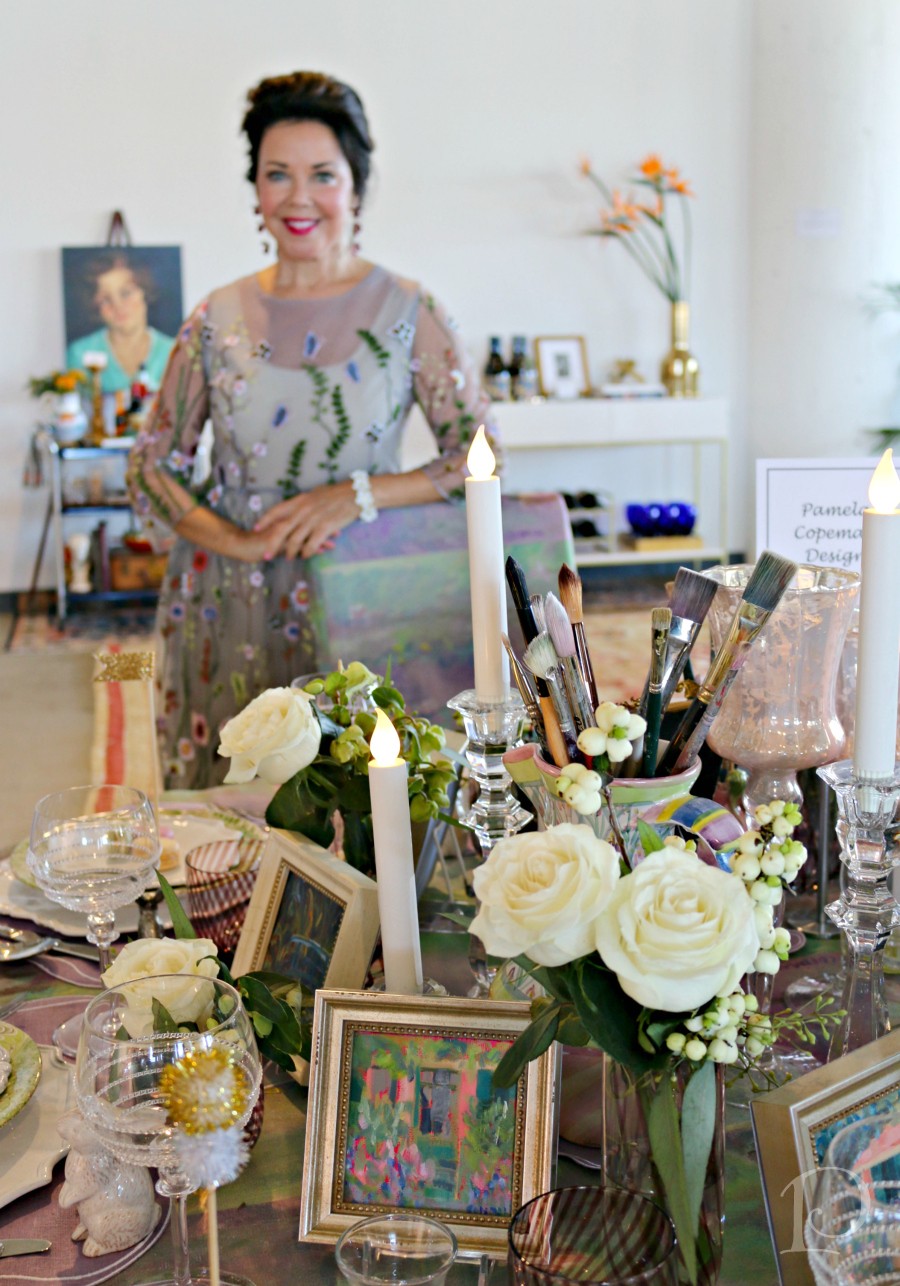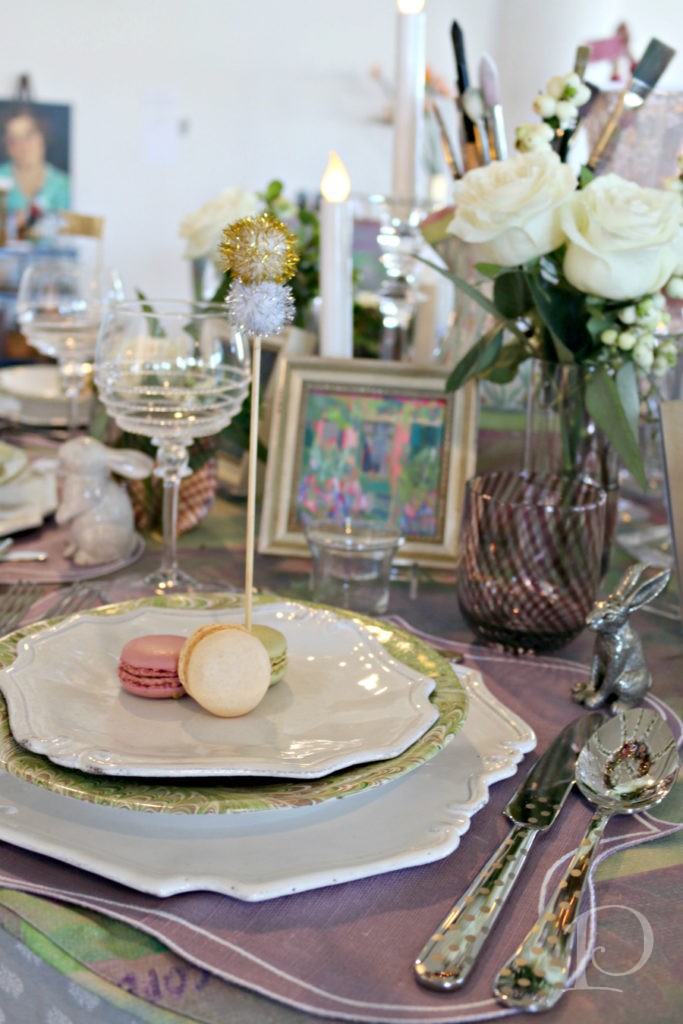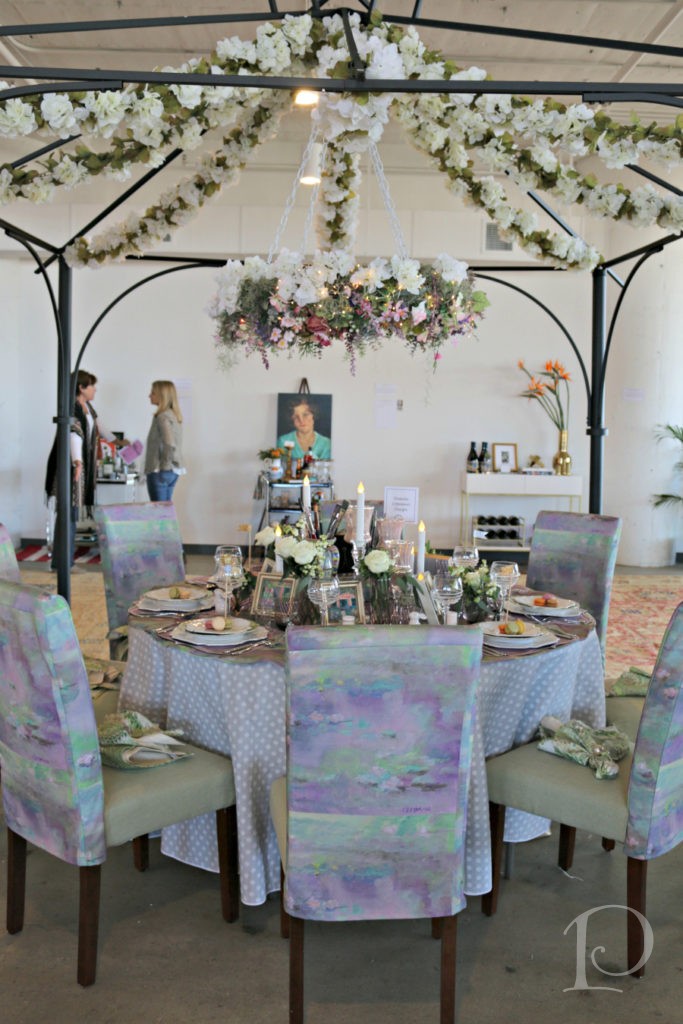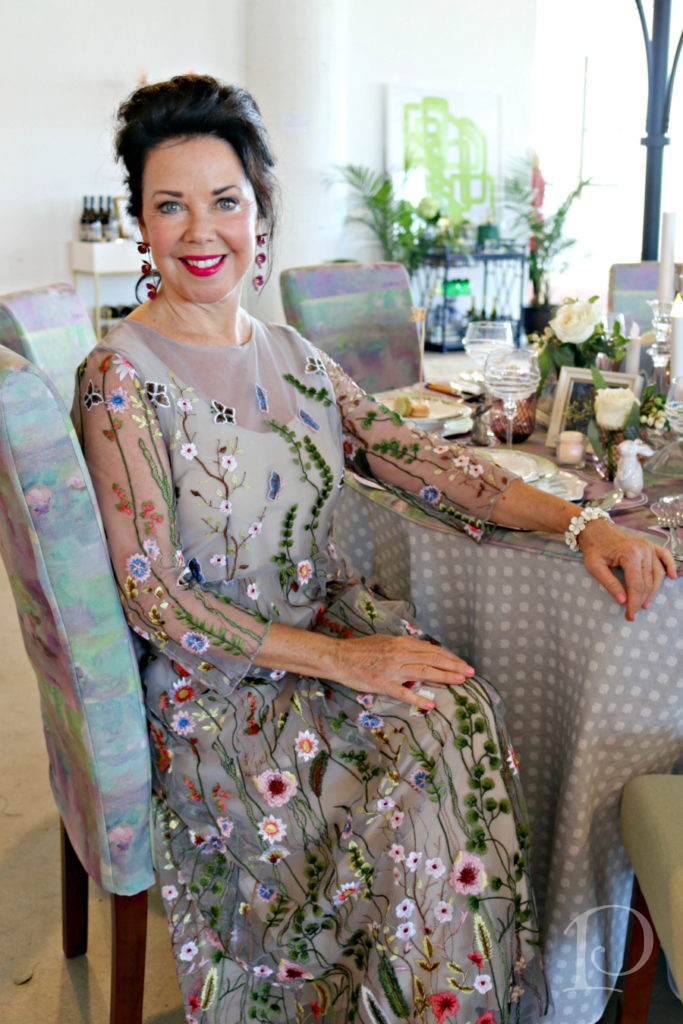 The trellis I originally envisioned morphed into a gazebo which served to enclose the table in floral bedecked coziness.  The night of the Gala dinner, it was absolutely magical with all the fairy lights, flowers, and glowing reflections off the place settings.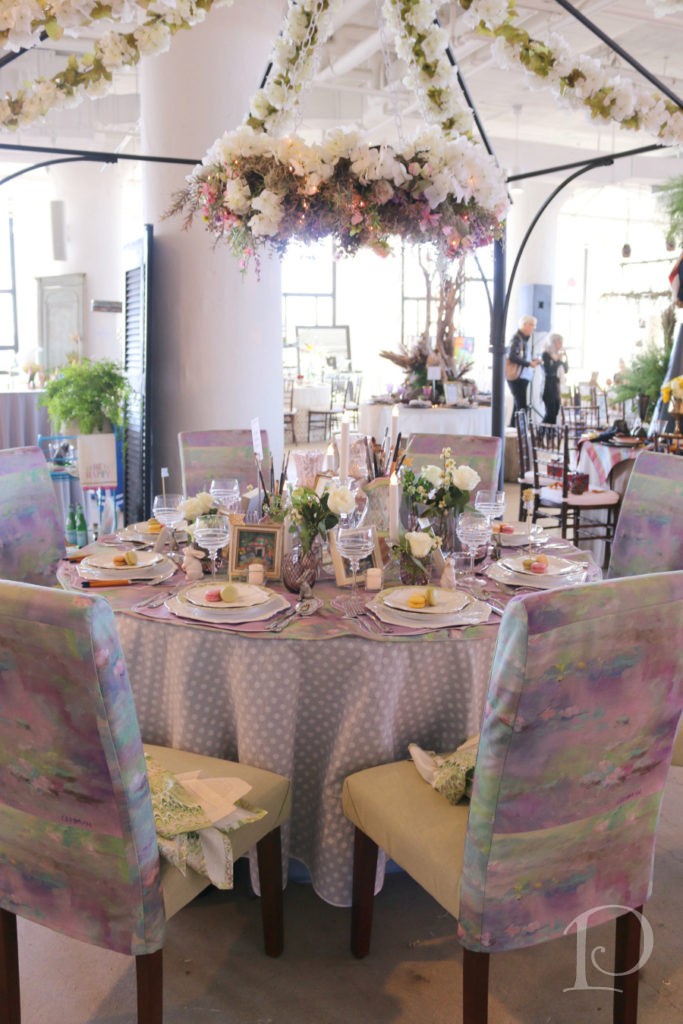 Heartfelt Thanks
There are so many people that helped make this design possible!
Thank you to Nannette Walsh of La Petite Maison in Hingham Square for loaning me the most beautiful layered place settings, placemats, napkins, pearl napkin rings, stem ware, bunny salt and pepper shakers.  Your lovely pieces helped bring the table to life and you do it all with a smile!
My dear and uber creative friend, Ginny Ballou, aka Mrs. Blossom,  designed the breathtaking floral chandelier.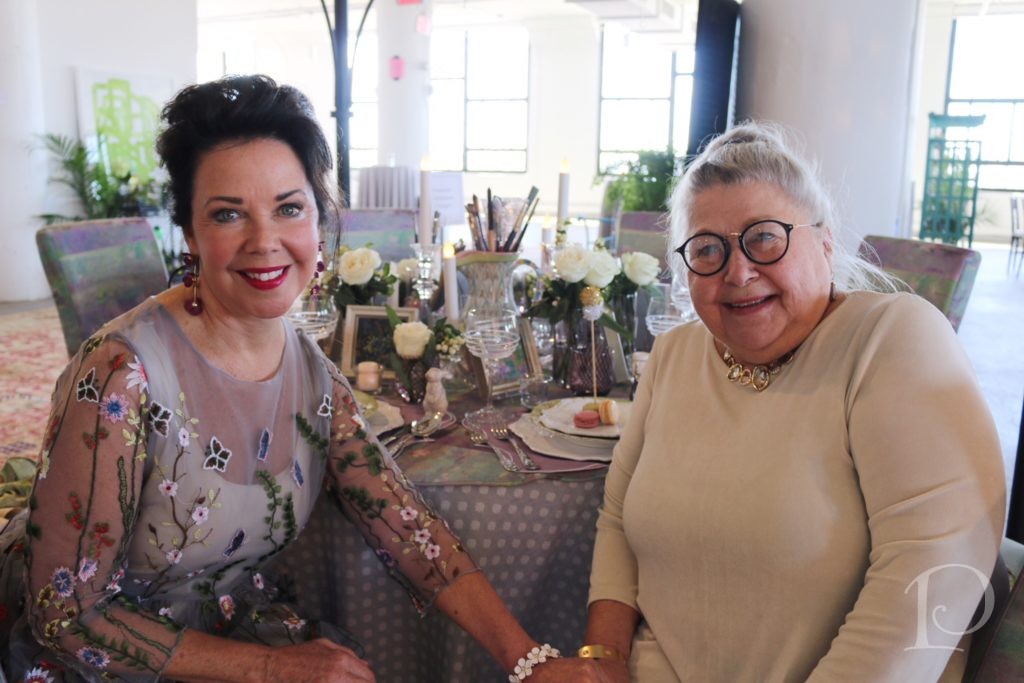 It  was a huge hit and brought the perfect "Giverny feel" to the space.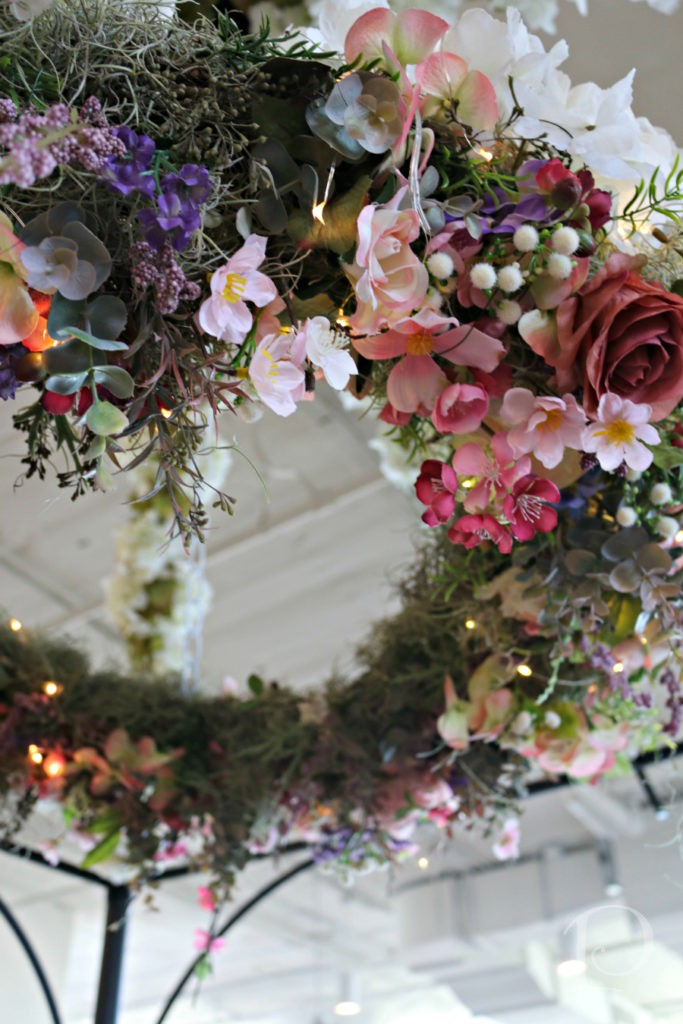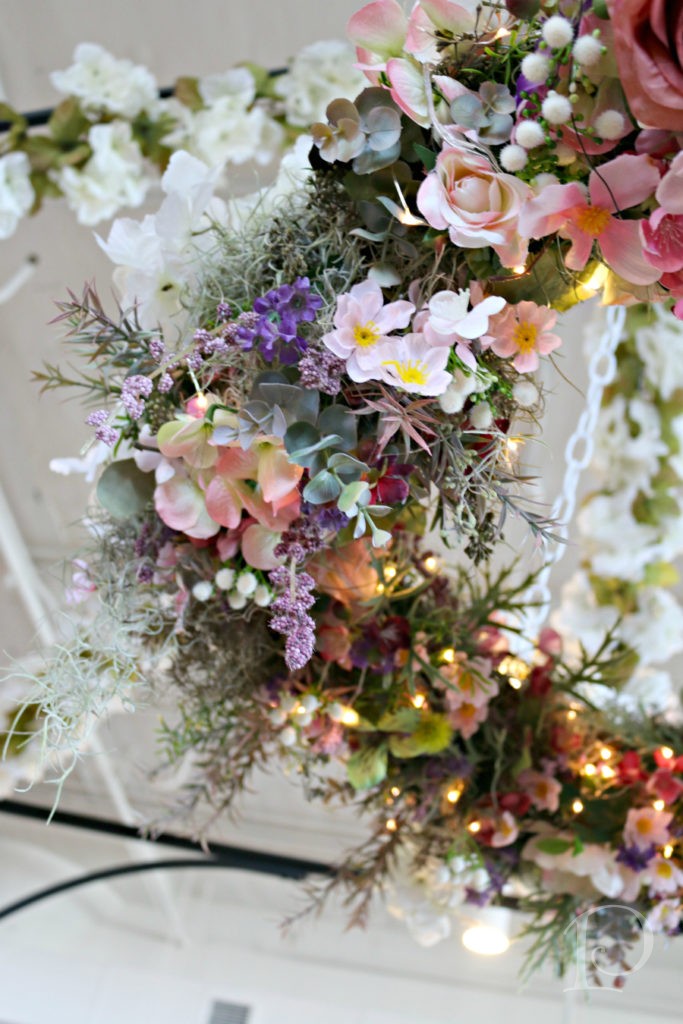 Thank you xoxo
Peter Stamper of Stamper Trucking and his trusted coworker  Nick moved everything not once but twice:  from my home to the location in Boston and then back again.  Bless their hearts ~ it wasn't easy…but they did it teasing me all the way 😉 .
Bill Elinoff and Kravet Fabrics donated the beautiful green fabric used to cover the seats of the 8 Parson chairs and it was perfect. Thank you!
And of course, I could never have completed this installation without my right hand man, Paul.  He is incredibly resourceful, talented, and hard working ~ and he puts up with me (a key quality when working with a designer!).
I do not stand alone, I am part of a team and I adore and  thank all of you!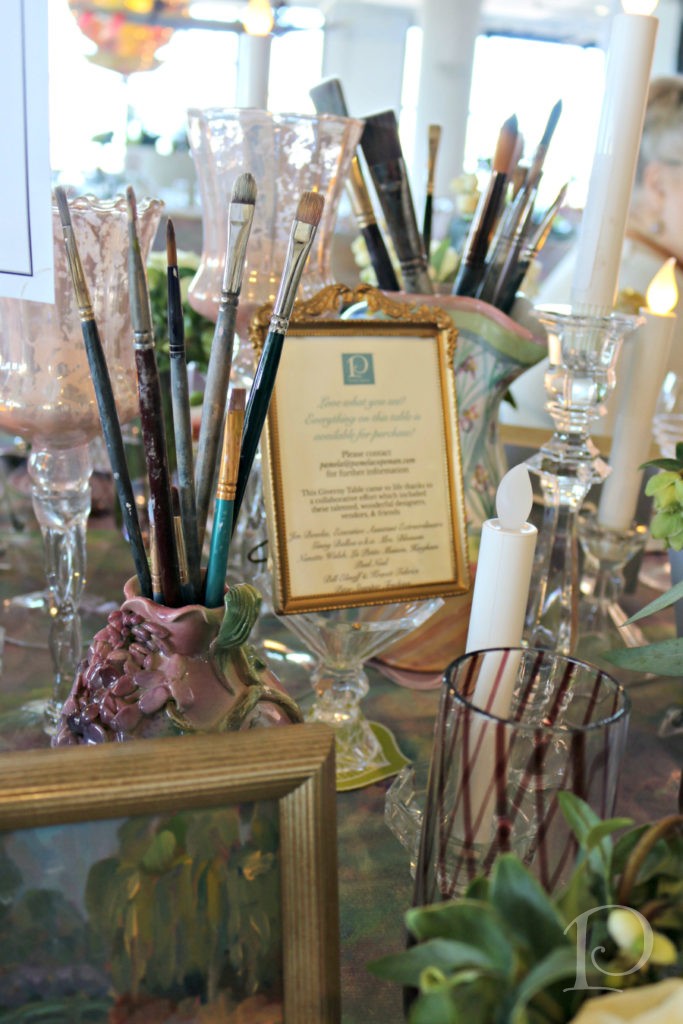 Thank you to all that participated in and supported this event, especially my family!
I was incredibly pleased to hear that the Heading Home To Dinner event far exceeded their fundraising goals ~ I can't wait to see what next year's event brings!
xo,
Pamela
SaveSave
SaveSave
SaveSave
SaveSave
SaveSave
0
Share this!
Tweet