Posh Parties: Designing A Bridal Shower
Jul 30 2014 · 0 comments · Food & Drink, Inspiration, Personal, Posh Parties ·

0

Tis the season to shower brides with love and best wishes. Yes, my head is filled with hearts and flowers and romance since my own daughter, Emily, has gotten engaged. This weekend was the icing the on the cake (hehehe) as Emily co-hosted the Bridal Shower of her dear friend Jessica at my home.

Here is a look of the event from the "behind the scenes" to the actual party, along with some of my tips for a memorable and meaningful gathering. Hopefully you will find some inspiration for your next event!

Emily and Jess' mom Sara truly hosted this celebration ~ they just needed a location and I was delighted to offer my home.

The entrance to my home~ always set the tone from the moment the guests enter.  The message here is:  Come in, Relax we are pleased you are here…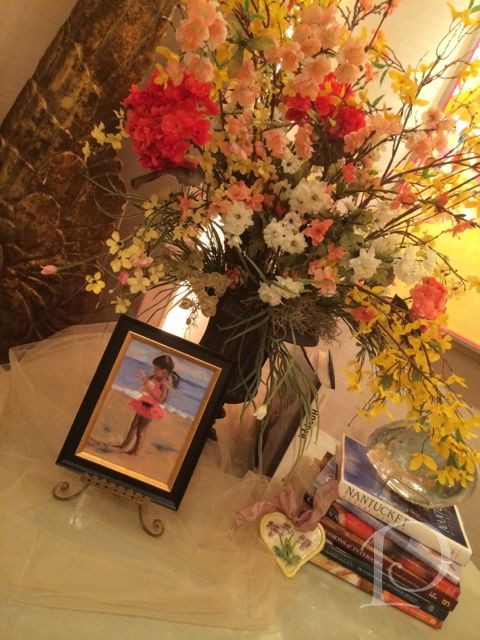 Love is in the air with my collection of handmade pottery hearts.  They were on display throughout the party area.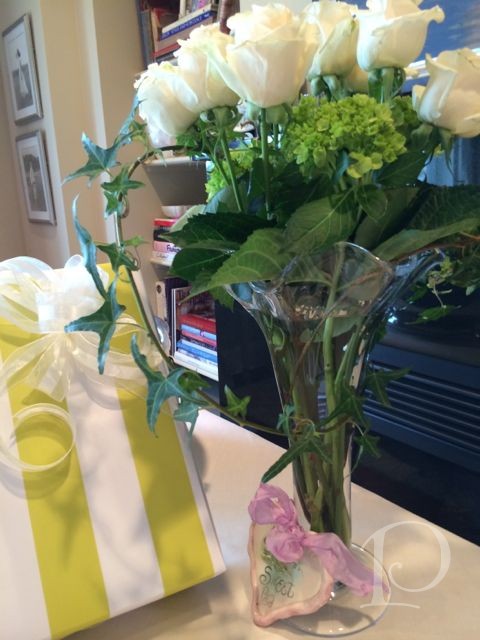 I wrapped and embellished my gift with fresh herbs because Jess and her fiancée are fabulous chefs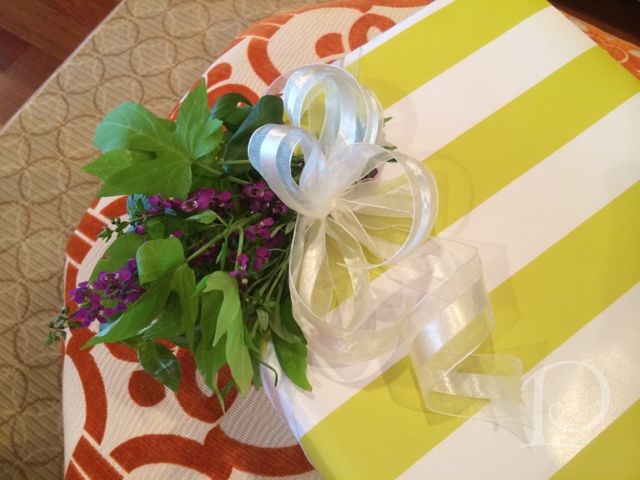 The gift wrap was beautiful & personal ~ wrapped in Jess' wedding colors.  The collection of gifts becomes part of the décor…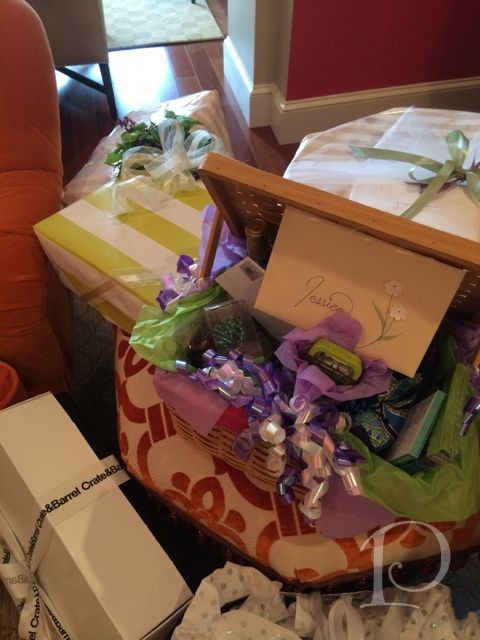 A few more pre-party pics…
The champagne area is set and ready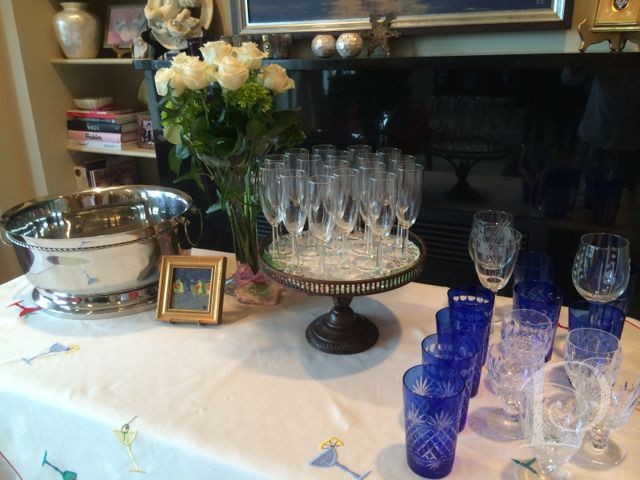 The buffet awaits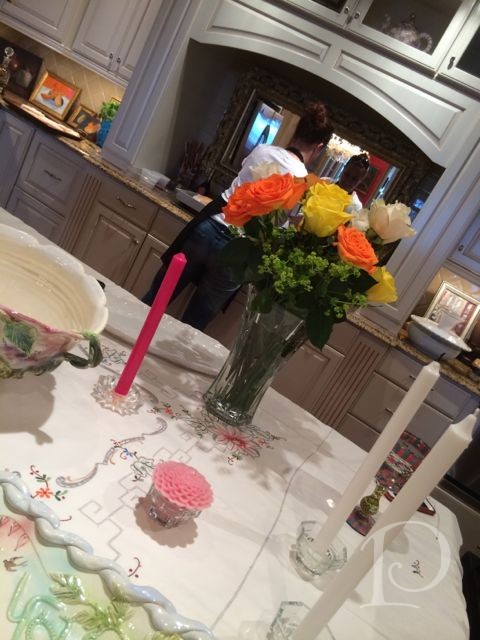 Meghan Hargraves of Bread & Ginger, catered all the food.  Megan is a friend of Emily's and an outstanding chef.  The food was  delicious and presented with an artistic flair.
Meghan arrives and gets right to work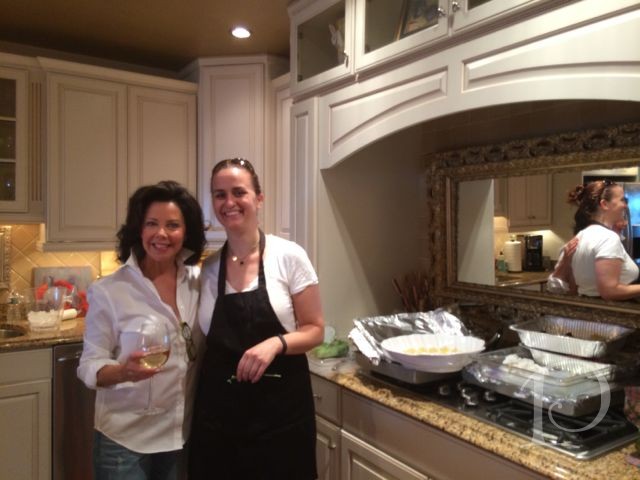 She is incredibly organized, self-sufficient, and was a joy to have in my kitchen.
Now this is a cooler!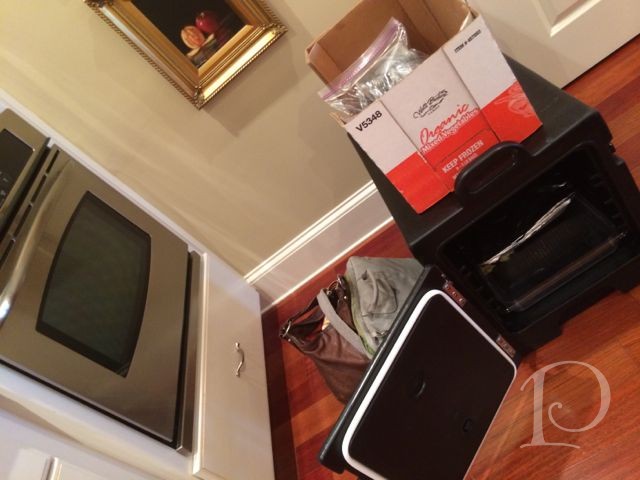 Look at this refreshing fruit salad with the heart-shaped watermelon (ahhhh)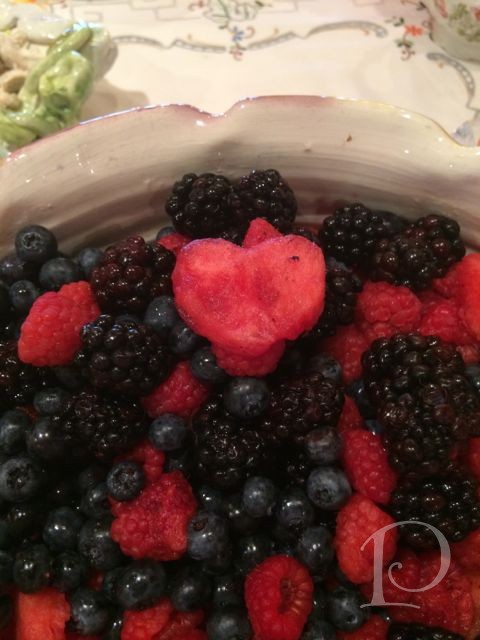 Mmmm, freshly baked bread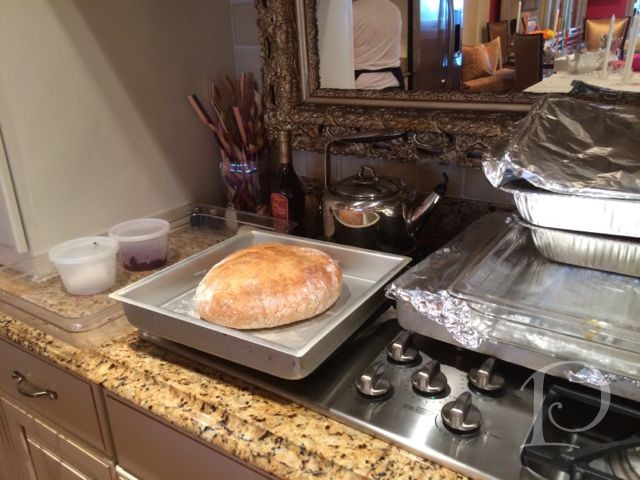 Yummy, can't wait to taste all of it!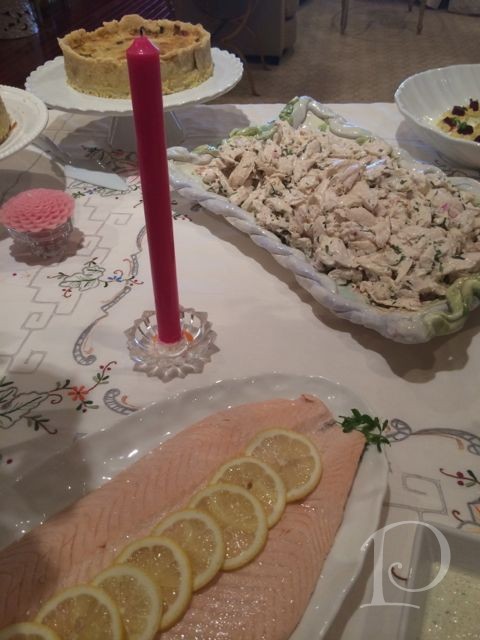 The bride is from Saratoga, the oil & vinegar selections were such a thoughtful touch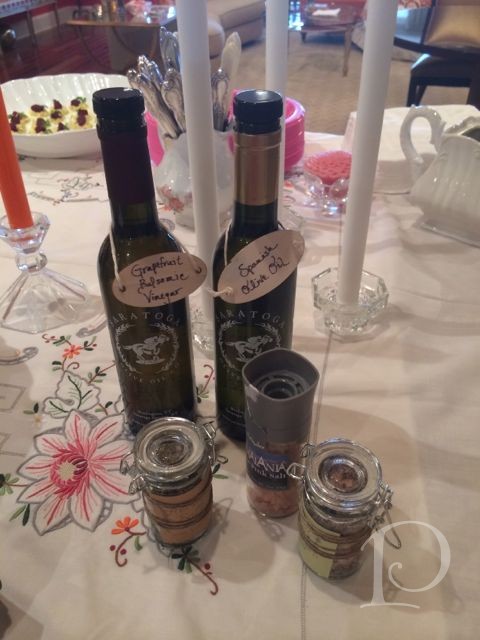 The buffet is filling up…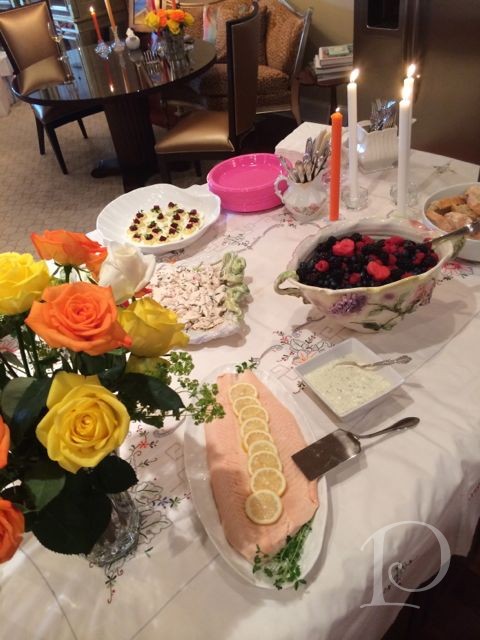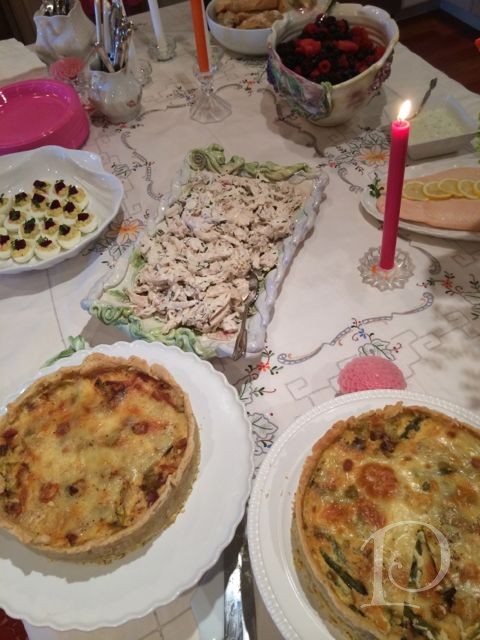 Loved these deviled eggs with garnish of a tiny beet and a pea tendril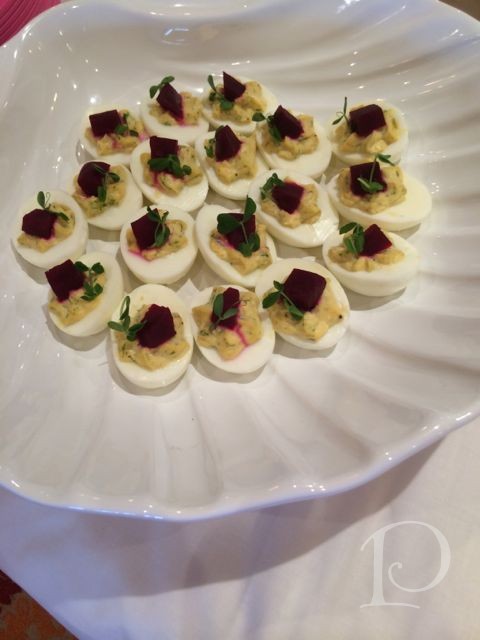 The buffet is ready!  Fabulous job, Meghan!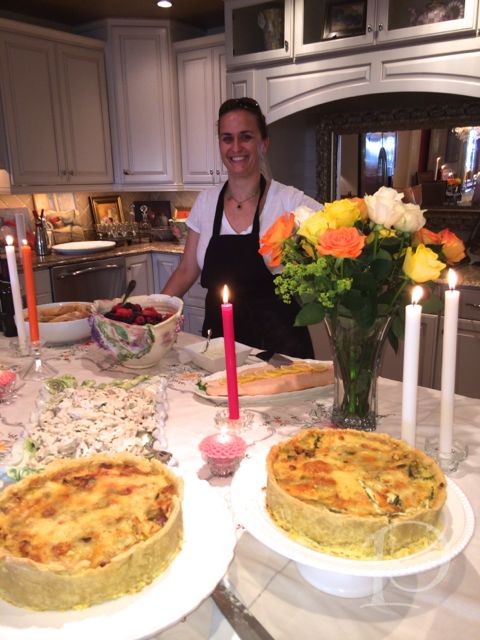 What truly brings a party to life:  The Guests
…and of course the Guest of Honor.
She's Here!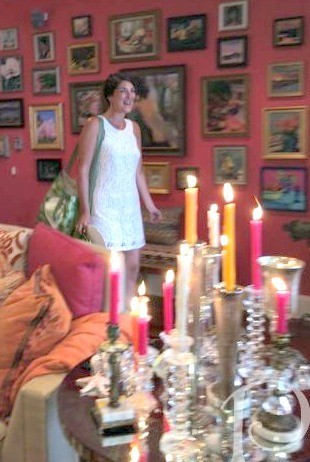 Our Jess, the Bride–to-be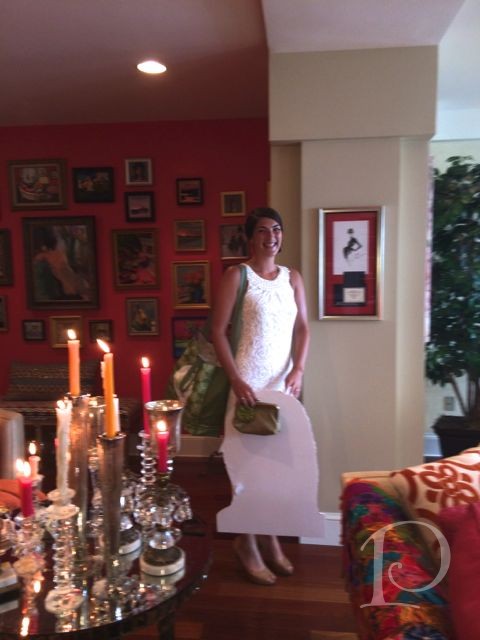 Her Maid of Honor couldn't attend so Jess made a cardboard version of her.  That way, she was here not only in spirit but visually too (love her)!
Em and Jess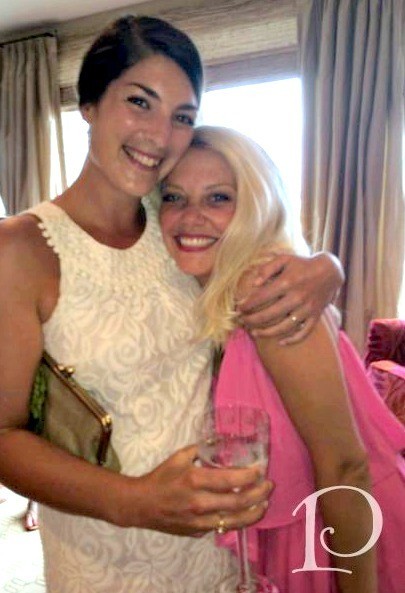 Emily asked each guest to share a story about Jess, as each person did we raised a glass of champagne and toasted.  Some of the stories were incredibly endearing…we also raised a hanky!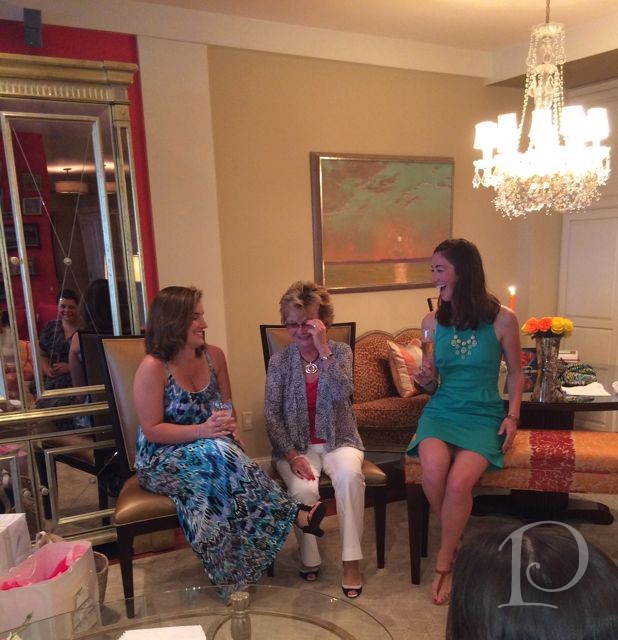 The Mother of the Bride (in blue on the right), enjoying the festivities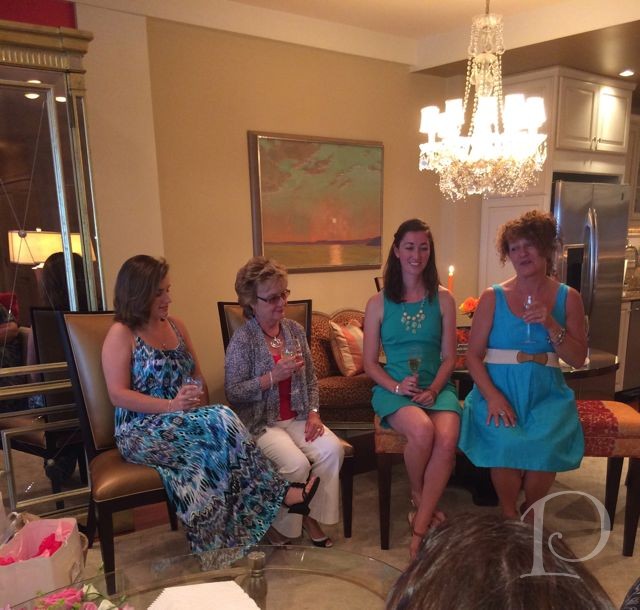 More beautiful toasts & celebrating friendship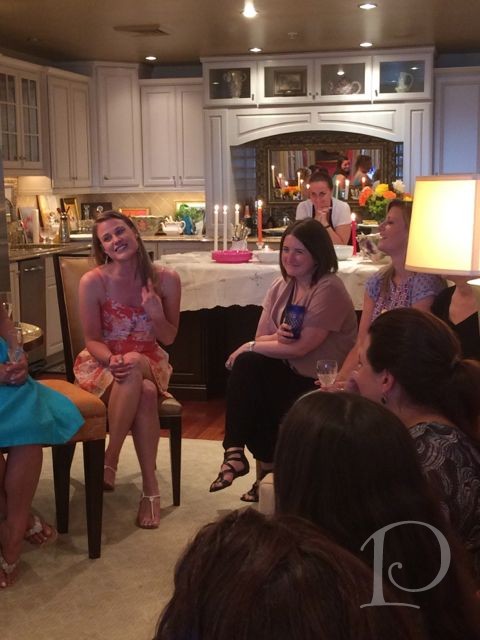 Jess was a most gracious and lovely Bride-to–be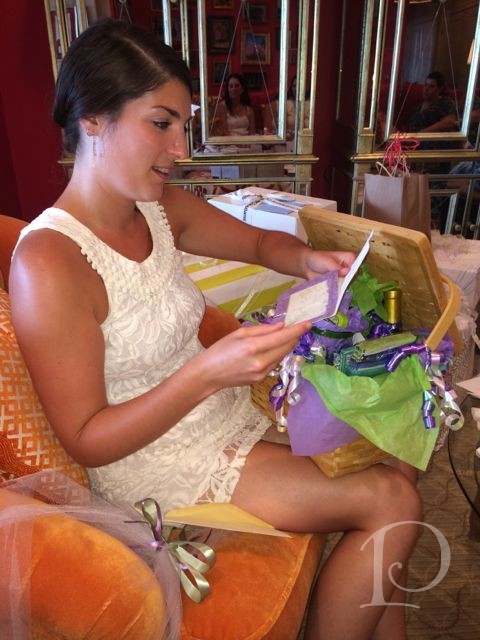 My lovely Emily and me at the end of the day…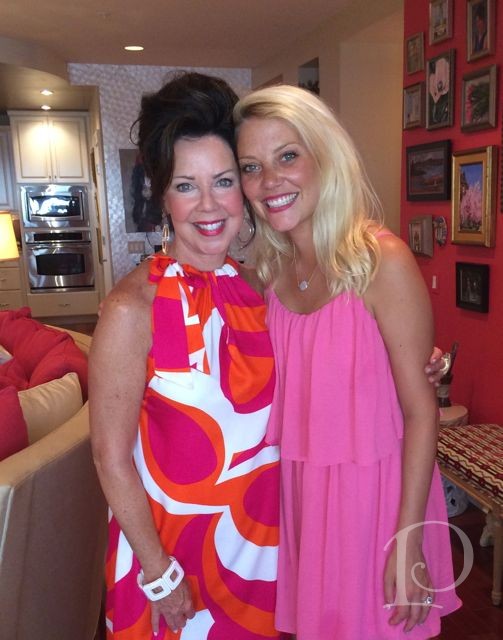 It was a grand day and only a hint of the wedding day to come in October!
I promised you Tips for Hosting a Fabulous Bridal Shower, and here they are:
Make it personal:  Highlighting Jess' wedding colors, the Saratoga oil & vinegar, and of course the heartfelt toasts
Show & Share the Love:  Pottery hearts & champagne toasts are perfect for this!
Delegate!:  Meghan did an amazing job with the catering ~ and left us with one less thing to worry about. You can visit her blog and follow her on Twitter and Instagram to learn more 🙂
It's all in the Details:  From gift wrap to food garnishes, the details help your event stand out
Add Some Fun:  A cardboard Maid-of-Honor ~ need I say more!
"There is only one happiness in life, to love be and loved."
~George Sands
Wishing the happy couple, Jess and Mike, all good things!
xo,
Pamela
0
Share this!
Tweet