Modernizing and Customizing Furniture: A Cinderella Story
Jul 26 2017 · 4 comments · Design Elements, Inspiration, My Designs ·

0

I have always been a sucker for a Cinderella story, the before and after is just such a dream.

Today I am sharing three furniture customizations in the hopes of encouraging  you to take a fresh look at a piece of furniture you may have that has "good bones" but just doesn't fit your current style.  Whether the furniture is from an antique shop, a church fair, or an item you inherited, I encourage you to look beyond  the current color, fabric, and/or wood finish. By changing different elements of a piece of furniture, you can modernize and customize it to create a true conversational piece for your home.

When I originally spotted this channel back chair many years ago it was in the corner of a very musty, dusty shop ~ and upholstered in a bright crushed orange fabric.  This was long before orange was one of my favorite colors but I snapped it up because it was comfortable beyond belief and the bones were great.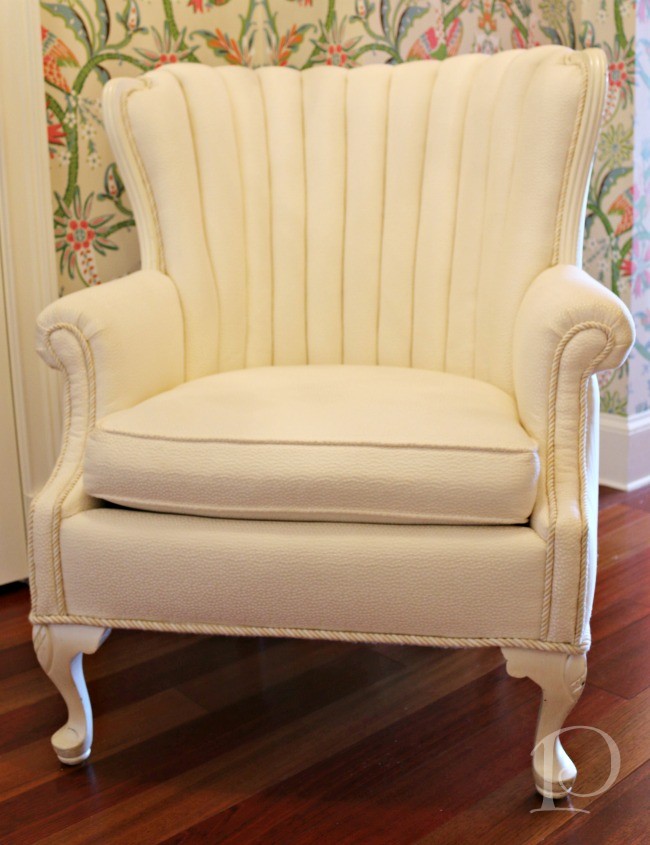 What we did:
Recovered the chair in 2 complementary ivory fabrics: a tone on tone petite animal print on the front and a narrow stripe on the back
Added rope trim and a self-welt to up the elegance
Refinished the dark wood legs to a painted pearl ivory finish
This chair was originally featured in the Make Way For Duckings nursery I designed for a Junior League Show House on Arlington Street in Boston. Since then this versatile chair has lived in many places and is currently in my Mistress Bedroom.
This loveseat was purchased at a local church fair many years ago.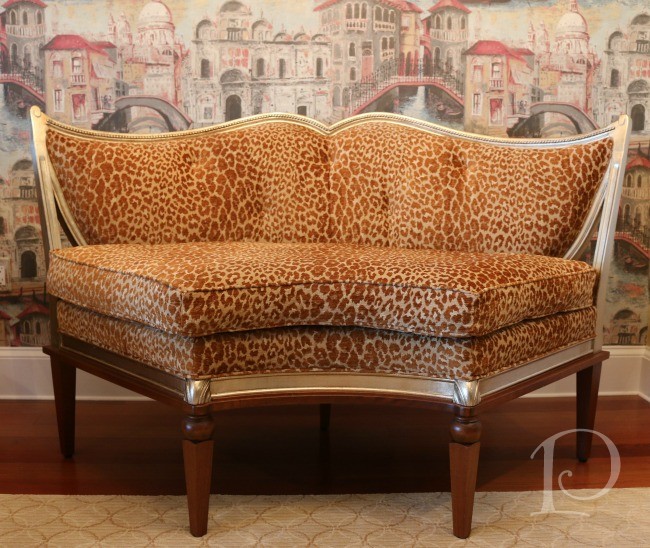 I went with my daughter who had a crush on a young man working there. Of course I had to check him out! When we arrived I spotted not only Jack (the crush) but this amazing Lip Loveseat. I adored the unique lines as well as the tufted back.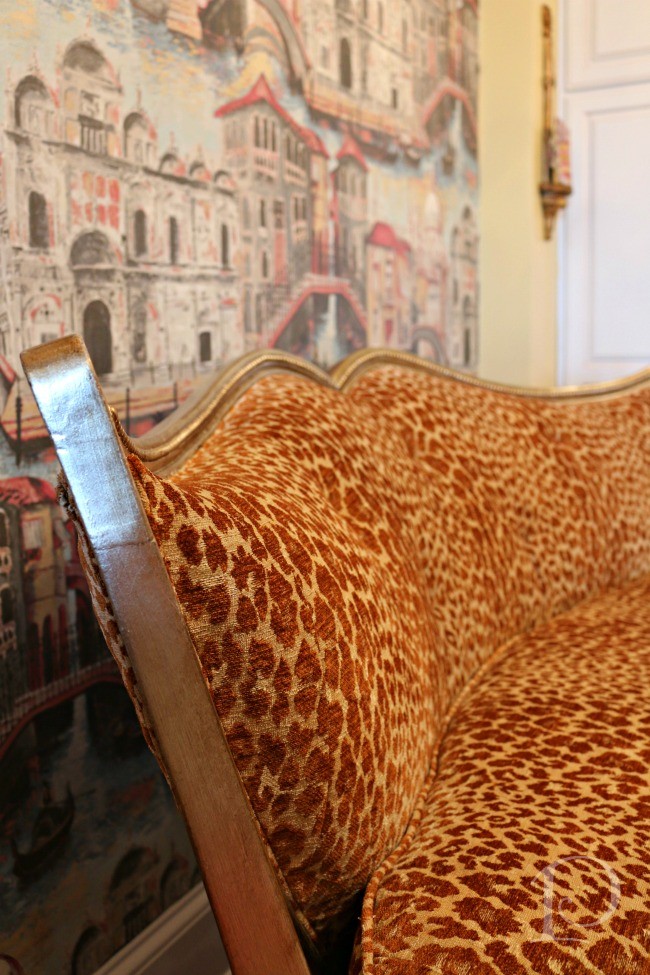 It was love at first sight ~ especially when Jack sold me this piece for a discounted price of $15!
So far this loveseat has survived three makeovers.  At one time it was in my office where I used it in front of my desk as seating for clients who came in to review a project. Currently I use this loveseat as additional seating at my round Dining Room table.  In order to make it suitable it underwent it's biggest transformation to date.
What we did:
Added a shimmering champagne finish to the wood trim on the main piece.  Art Applications  of Boston did an amazing job
Reupholstered using one of my favorite bold animal print fabrics.  The moderate tufting is very flattering
Created a custom base to add stability and height
Jared from Morpheus Co. in Hingham collaborated with me to take off part of the front decorative leg and create a complimentary leg that would make this piece more stable for constant use and also work well with my dining table.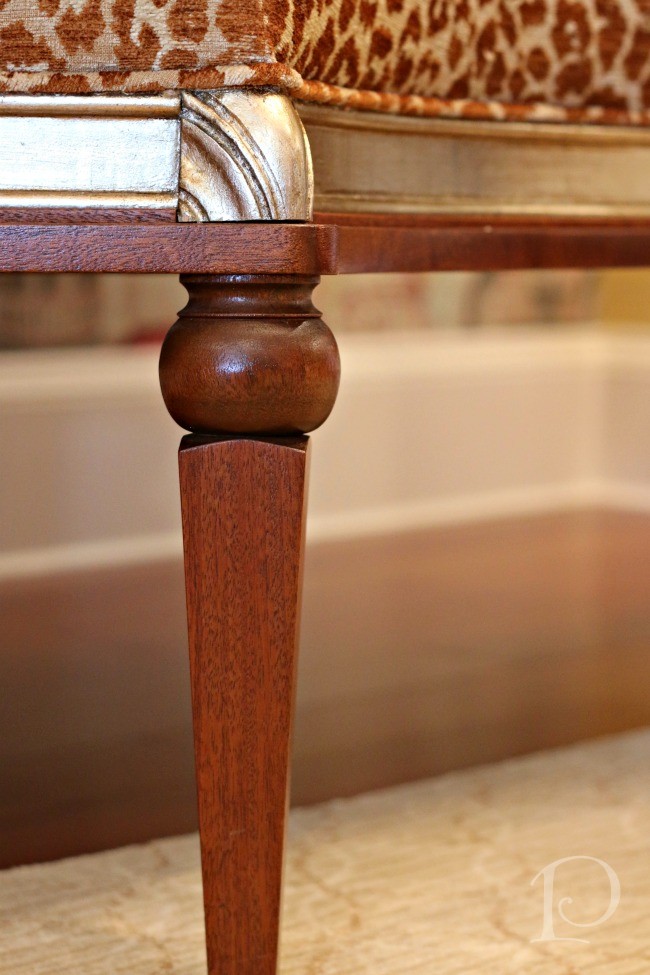 While this loveseat is highly customized to my taste and space, I am sharing it to show that the possibilities are endless when you partner with the right artisans and workroom. The quality of the workmanship on this piece is breathtaking and it is so comfortable to boot. I love having such a unique statement piece as a focal point in my home!
Finally, this buffet was found by one of my clients in an antiques store on Charles Street in Boston.  While she loved the intricate details of the piece and knew it would work well in her Dining Room space, we didn't feel it reflected her adventurous spirit or eclectic design style.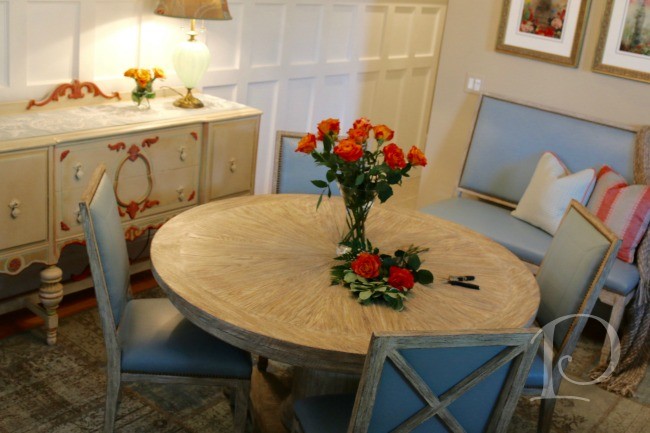 What we did:
Had the buffet painted in a custom color
Enlisted a decorative artist to hand paint the swirls, twirls, and other details using a paint palette to complement the overall design of the room
If you have a beloved piece of furniture that is no longer working with the design of your home (or never has), I would love to help!  Together we can create a vision for customizing and modernizing the piece to fit your current style. Let Pamela Copeman Design Group and my network of top notch artisans, workrooms, and craftsmen act as your "fairy godmother" and transform your furniture piece into an amazing, personal addition to your home.  Contact me to get started 🙂 .
And to think, you can enjoy your "new" furniture after midnight!
xo,
Pamela
SaveSave
SaveSave
0
Share this!
Tweet