Larger Than Light Trend Watch Feature
Feb 26 2015 · 0 comments · Design Elements, Press ·

0

Part of my job as an Interior Designer and Design Blogger is to continually educate myself about our industry, particularly in the areas of products and trends. This is something I pride myself on and very much enjoy.  So  I was thrilled when Littman Brands asked me to be part of their  Larger Than Light, Winter 2015 issue  Trend Watch column.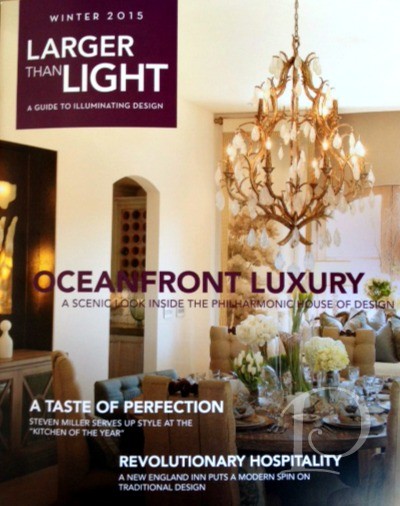 Just look at that amazing chandelier featured on the cover!  The Littman Brands family of lighting encompasses six elite brands offering a dynamic range of unique lighting products.  The Larger Than Light publication is very well done and full of inspiration.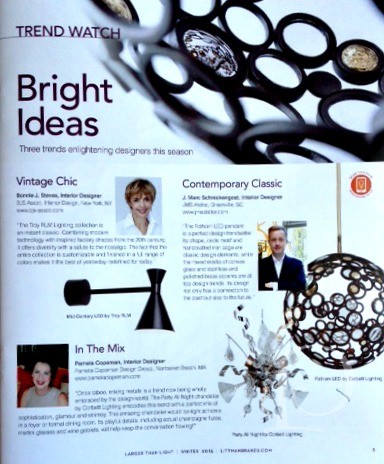 The trend I chose to highlight is mixing metals.  This is very "hot" right now in home decor and fashion and I love my featured lighting pick: the Party All Night chandelier by Corbett Lighting.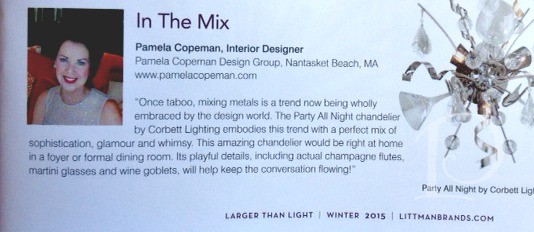 I mean, there are martini glasses and champagne flutes in this light fixture!  How gorgeous does this chandelier look in this dining room?
The Larger Than Light Instagram feed is also full of beautiful and unique lighting and inspiration…
The Winter 2015 Larger Than Light magazine is available for free online, you can read it here.  Thank you to Littman and Larger Than Light for including me!
xo,
Pamela
0
Share this!
Tweet